Curlin Odds to Win 2008 Breeders' Cup
Published on:
Oct/25/2008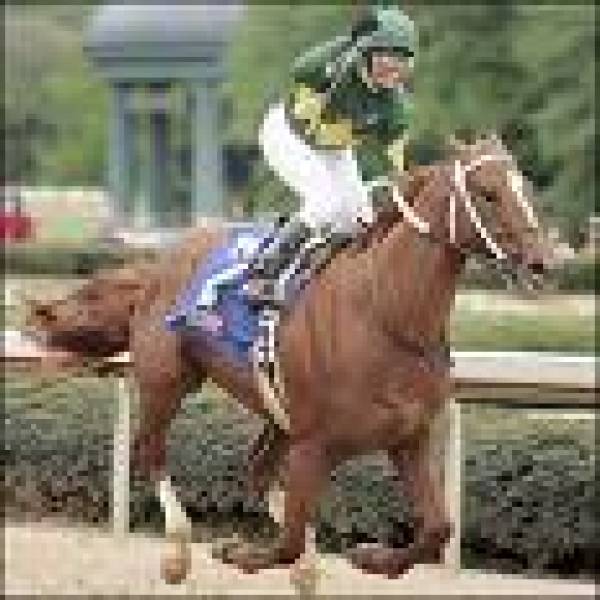 Curlin's odds to win the 2008 Breeders' Cup were listed at nearly even heading into the big Classic race.
"Curlin is just too tough to pick against despite his debut on the Pro-Ride track," points out Ron Rippey of NJ.com. "The Horse-of-the-Year is 11-15 in his career, the top money earner of all time and excels at 1 1/4 miles with a 6-for-7 record. His only loss this year was when he tried the turf, hit the gate and fell far back early. Curlin won the Classic last year by 4 1/2 in the slop at Monmouth and has been an odds-on favorite in all six races this year."
Curlin will have some stiff competition from foreign invaders when he tries to win his second consecutive 2008 Breeders' Cup Classic on Saturday.
The winner of more than $10 million, four-year-old Curlin faces a stiff challenge from two of Europe's top turf runners, Henrythenavigator and Raven's Pass.
And Curlin's odds to win the 2008 Breeders' Cup have not been inflated either as there were a few horses with single digit odds. Among them: Casino Drive, Go Between, Duke of Marmalade, Raven's Pass and Henrythenavigator.
"If Curlin were a 'lock' we would not see so many horses in the single digits," expressed Payton O'Brien, Senior Editor of the Gambling911.com website who has been monitoring Breeders' Cup odds all week long.
These odds were courtesy of SBG Global - offering huge cash bonuses with an initial deposit. Gambling911.com encourages Breeders' Cup bettors to open an account immediately in order to avoid unnecessary crunch time delays.
1 Go Between +800
2 Casino Drive +800
3 Tiago +2000
4 Duke of Marmalade +800
5 Henrythenavigator +800
6 Smooth Air +5000
7 Student Council +1500
8 Raven's Pass +600
9 Curlin +115
10 Fairbanks +1500
11 Colonel John +1000
12 Champs Elysees +2000
----
Tyrone Black, Gambling911.com