Capitals vs. Rangers, Ducks vs. Flames Betting Lines - May 8
Published on:
May/08/2015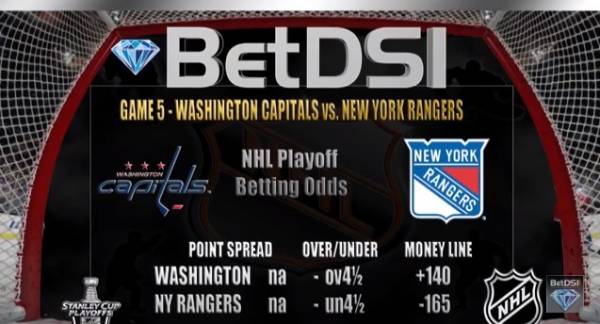 BetDSI.com has your Capitals vs. Rangers and Ducks vs. Flames betting lines for Friday night.

Washington Capitals 24-22 on the Road
The Capitals haven't been anything special on the road this season as they were just 22-19 during the regular season and they are just 2-3 in the playoffs. They split the first two games of this series in New York. Both games were one-goal games as the Capitals won 2-1 and lost 3-2. The Capitals have been getting great goaltending from Braden Holtby and he has kept them in every game. The Rangers are starting to get frustrated but they realize what they have to do. "We're just going to have to keep throwing pucks at the net, and getting bodies there," New York's Dan Girardi said. "Do our best to make sure he can't see those shots and make sure we get some of those rebounds in front of the net." The Capitals have gone under in four of their five playoff road games with the other one a push.
New York Rangers 28-18 at Home
The Rangers have been a good home team this season with 28 wins including three in the playoffs. New York easily could have won both of the first two games at home in this series but a late goal cost them Game 1. The Rangers have gone under in three of their five home games in the playoffs with one game going over and one push. The Rangers average three goals per game and allow 2.3 per contest. They haven't been scoring much in this series so they need Rick Nash to find his scoring touch if they are to win on Friday.
Everything Clicking for the Ducks
The Anaheim Ducks have been rolling in this year's playoffs and everything is working. The team is scoring, playing great defense, and being physical. The team has learned from past defeats in previous playoff seasons. "Losing two Games 7 at home, those are tough losses to have," defenseman Francois Beauchemin said, "It builds your mental toughness, your character. We all know it's not easy. It gets harder as you go on. We try to dictate our play mostly by our physical game. That's when we're at our best." The Ducks have even been clicking on the power play as they were at 33.3 percent before game 3. The Ducks won both of their first round games in Winnipeg and they were 25-16 on the road in the regular season.
Calgary Flames Relying on Home Ice
The Flames were simply dismal in Anaheim in the first two games of this series but at home they have been a different team. They won all three of their first round games at home against Vancouver. "We have a pretty special thing going there with our fans and got an excited city behind us," center Joe Colborne said. The Flames were 23-18 at home during the regular season with 20 games going under the NHL betting odds at the online sportsbook, 19 games going over with 2 pushes.