Cain Velasquez vs. Antonio Silva Prediction (Video)
Published on:
May/25/2013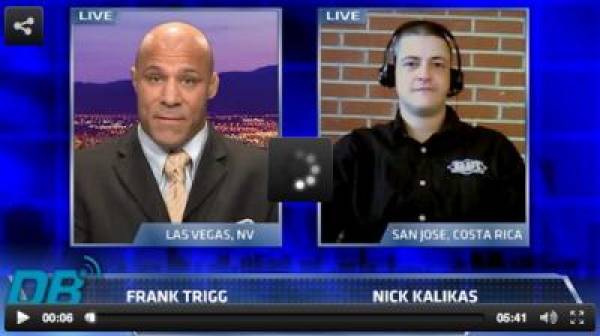 Saturday's MMA action is covered at DonBest.com with Nick Kalikas and former UFC fighter Frank Trigg offering their prediction for Cain Velasquez vs. Antonio Silva.  This is the heavyweight matchup. 
A prediction for the Junior dos Santos vs. Mark Hunt fight is also offered.
Odds for Cain Velasquez vs. Antonio Silva had Velasquez as a ridiculous -635 favorite.  A small bet on Silva paying $43 on a $10 wager might not be a bad idea here. 
Hunt is listed as the 3/1 underdog.  Kalikas doesn't see this fight getting out of the second round.  And while Kalikas admits to making some money off of Hunt as a winning underdog, he doesn't see a repeat against JDS.
"He has so much knockout power," says of Hunt.  "Hard to make a bet but I do like a better on the UNDER and not going the distance for sure."
Get your Cain Velasquez vs. Antonio "Big Foot" Silva prediction below.  Abode Flash is required to view.  UFC 160 fight props also available below. 
MARK HUNT VS JUNIOR DOS SANTOS - FIGHT DISTANCE
 

| | | | |
| --- | --- | --- | --- |
| FIGHT ENDS IN RD-1 |  +125 | - | - |

 

| | | | |
| --- | --- | --- | --- |
| FIGHT ENDS IN RD-2 |  +175 | - | - |

 

| | | | |
| --- | --- | --- | --- |
| FIGHT ENDS IN RD-3 |  +250 | - | - |

 

| | | | |
| --- | --- | --- | --- |
| FIGHT GOES TO DECISION |  +145 | - | - |
- MARK HUNT VS JUNIOR DOS SANTOS - FIGHT OUTCOME
 

| | | | |
| --- | --- | --- | --- |
| M HUNT - WINS BY KO, TKO, OR DQ |  +415 | - | - |

 

| | | | |
| --- | --- | --- | --- |
| M HUNT - WINS BY SUBMISSION | +2500 | - | - |

 

| | | | |
| --- | --- | --- | --- |
| M HUNT - WINS BY DECISION | +700 | - | - |

 

| | | | |
| --- | --- | --- | --- |
| J DOS SANTOS - WINS BY KO, TKO, OR DQ | +100 | - | - |

 

| | | | |
| --- | --- | --- | --- |
| J DOS SANTOS - WINS BY SUBMISSION | +275 | - | - |

 

| | | | |
| --- | --- | --- | --- |
| J DOS SANTOS - WINS BY DECISION | +160 | - | - |

 

| | | | |
| --- | --- | --- | --- |
| FIGHT OUTCOME IS A DRAW | +9000 | - | - |
- Tyrone Black, Gambling911.com