Bulls vs. Nets Game 5 Betting Line
Published on:
Apr/28/2013
This is a potential elimination game for Brooklyn, who were initially favored to win this Playoffs series.
Chicago managed to erase a 14-point deficit thanks to Nate Robinson and his 34 points in a Saturday night game that went into 3 overtimes. 
The current line on this game is at: BetDSI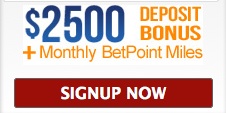 With 3:16 remaining in the fourth quarter, the Nets held a 14-point lead (109-95) over the Bulls and were shooting 60.6 percent from the field.
"I always think I'm on fire, kind of like the old school game NBA Jam," Robinson said immediately following that game. "You make a couple in a row, the rim's on fire. You shoot the ball, the ball's on fire. I feel like that at times -- all the time. Whenever I'm in the game, I just play with a lot of confidence. You kind of have to lie to yourself and feel like you can't miss."
The Bulls and Nets 3 OT game is tied for the second-longest postseason game in NBA history. 
67 percent of those betting this game were backing Brooklyn. 
 
- Tyrone Black, Gambling911.com