Boxing at the Fountainebleu: Woo Interviews Fighter Fres Oquendo
Published on:
May/20/2009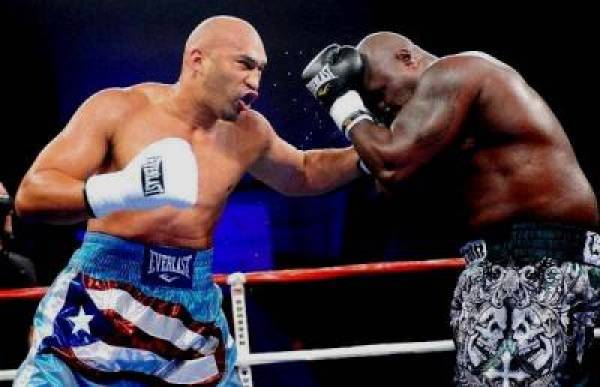 The fabulous newly renovated Fountainebleu Resort in Miami Beach will be host to a fight Friday night where tickets are selling for upwards of $3000.
Gambling911.com's own Jenny Woo had a chance to interview one of those fighters.
JENNY:  How did you get your start in boxing?
FRES:  I started in 1987 when I was 13.  My older brother Hector - he was a Golden Glove fighter and here I am today - one of the best Heavyweights in the world.  And he's by the way one of the top attorneys in Chicago.  He's the one that inspired me into boxing.

JENNY:  So obviously your brother is your biggest supporter.
FRES:  Oh yeah.  He thinks that I'm one of the top athletes of the sport.  He's very proud of me.  I came a long way and he was there day one to support me.
JENNY:  How was it to fight Holyfield?
FRES:  It was a great fight.  Holyfield came in great shape as always but I was more determined.  I punched him and I dominated him.  They robbed me - at end of the day they listed it as no contest because he was doing the use of steroids at that moment.  In all truthness, I hustled and beat him.  But it was a good fight.

JENNY:  I'm sure it was.  What was your most memorable fight to date?
FRES:  My most memorable fight was against Chris Byrd (http://www.youtube.com/watch?v=RGut-V1YmZA).  He was the IBF heavyweight champion - the guy who beat Holyfield for the heavyweight championship.  I was up neck to neck with the contender and that was one of the most controversial fights in heavyweight history.  It was a fight that I clearly dominated - knocked down the champion several times.  They ended up robbing me - Don King and the production of course ended up costing me my heavyweight crown.  And still today they call me the uncrowned heavyweight champ for the simple fact that I did beat Chris Byrd - who beat the man, Holyfield, at that time in 2004.

JENNY:  You were quoted in saying, "I did not lose I was cheated by people who call themselves judges."  Do you think there was some favoritism in those fights or do you think they simply weren't doing their job?

FRES:  Well yeah, it's politics.  It's a lot of Marciano's that try to blackball me.  You know - I've been a great ambassador to the sport but unfortunately these promoters - they're the ones paying the judges.  And unfortunately, the fighters that I do fight and that I beat - technically I end up getting the short end of the stick because at the end of the day the promoters pay for the judges.  They stiffed me and that's why today in age I've never been really beaten.  I'm still one of the top fighters in the sport that clearly hasn't been beat.

JENNY:  You have a fight coming up on the 22nd of this month at the Fontainebleau (www.fontainebleau.com) here in Miami Beach.  Rumor has it that the Cuban fighter, Odlanier Solis has backed out of the fight.  So what's going on with that fight?

FRES:  Well I'm still fighting but not with that particular opponent.  Unfortunately, he seemed to be a great fighter and I was getting ready.  He chickened out, had cold feet and ended up telling the media that he broke his little pinky.  Poor little Cuban.  Haha.  I know when I fought Holyfield - I had a high fever with strep throat three days before the fight.  I still ended up fighting Holyfield and edged him.  So just to tell you that a lot of fighters don't have the heart, will, and courage - like myself, Holyfield and others just to name a few that will step up when it's time to fight the best.  At the moment we're in the process of finding a new opponent so I can get back on the winning track and get a great victory so I can get a shot at the Heavyweight Championship.

JENNY:  Obviously you're staying in shape and you're preparing for the fight.  What have you been doing to prepare yourself? 
FRES:  I've been doing a lot of track and field - 25-meter sprints, 50-meter sprints with good buddies of mine Matt Damon (the actor) and Desmond Howard (Heisman Trophy Winner and Superbowl MVP).  They are big supporters of my career and they'll be at my fight to cheer me on at the Fontainebleau.  It's unfortunate that the guy I was supposed to fight - the Cuban is a real big one but everybody knows that they always try to avoid the best.  But today I'm staying focused and I'm taking it with stride that I'm going to be fighting for the Heavyweight Championship soon.

JENNY:  How long do you see yourself fighting?

FRES:  I've been doing this so many years.  It does take a lot of time away from my kids especially when I leave for the training camps for several months.  I get back home and I see that they're getting older.  Hopefully another couple of years to make sure that my kids' school tuition, college fund, and all of that is taken care of before I hang it up.  You know - I just try to make ends meat for my kids.  Probably another couple of years.

JENNY:  Well speaking of your kids - How many do you have?  Six?

FRES:  Six.

JENNY:  Sheesh I have another trouble mothering my dog Lexy.  What do they think of dad fighting?  Do they think you're cool or do they see you as a regular dad?

FRES:  They're very proud of me.  They go to school - my daughter and sons go to high school and all the teachers tell them, "Hey I saw your dad's fight."  My kids love the attention from all their classmates and teachers.  I just want to show everybody that hard work pays.  I let my kids know that their dad takes a lot of punches so that they can have a better education and more than I had growing up.  That's why I'm so motivated because of my kids and that they have a better upbringing than what I had.  Unfortunately, my family was poor.  We're from Puerto Rico and we migrated over here.  They did a great job raising me, my brother and sister.  Here we are today - successful.

JENNY:  I think that's awesome.  Do you see a future fighter within your sons or even daughters?

FRES:  Haha.  My little daughter - I don't know if you check out Youtube - but she filmed my son (http://www.youtube.com/watch?v=FqcQCCo8Y50).  He's a pretty typical fighter.  But I don't want him boxing - obviously because the conflict that their dad has to go through.  I have to put up with a lot and I don't want my kids to have to go through it.  So I let them know that they should do good in school and then go to medical school, law school, etc, etc.  But if they decide they want to play football, basketball, professional sports, whatever, or even boxing - then I'll support my kids a 100% if they want to do it.  My preference would be for them to get ready for the real world and be productive in life.

JENNY:  Do you see any young, talented fighters out there to keep an eye on?

FRES:  Yeah.  There are a couple of great fighters.  Actually, a friend of mine - he's from Puerto Rico, he's up and coming.  I've seen him go up for the Olympics when I was training Puerto Rico with the Trinidad's when I was out there several years ago.  His name is Juan Manuel (http://en.wikipedia.org/wiki/Juan_Manuel_López_(boxer).  And he's a very talented kid - he's up and coming.  One of my kids back in Chicago, Samanche, this kid is 15 years old.  He's a welterweight and he's one of those "Cinderella Stories".  The kid came from one of the most depressed projects in city in Chicago.  To get out of that poverty, he won a national title and I got him under my wings and that's one kid that everybody can look up to.  When the Olympics are coming up - hopefully in Chicago - we'll get him in 2016.
JENNY:  I know that you work out very strictly.  You stay on a very strict diet - especially when you're prepping for a fight.  What do you do for fun?  You obviously like to hang out with your kids because that's the kind of dad you are.  But what activities do you do for fun?


FRES:  I treat myself once in a while and go back to my country to Puerto Rico.  I visit my relatives, go out to the hotels and enjoy myself with friends and travel.  I like coming down to Miami, I have a place here so it's always nice to come out here and have some piece of mind with myself.  I also travel to New York and Los Angeles.  It's great to travel and just get away from everyday stress and life.  Especially after all this strenuous training, fighting, etc.  After all of that, I treat myself with a nice little reward by going out of town and chilling out here in Miami, L.A. or Puerto Rico.
JENNY:  Well you definitely deserve it after all the hard work.
FRES:  Haha.  Thanks.
The fight will be shown on ESPN2 this Friday night.  While there are no odds being offered on this particular fight, be sure to check out SBG Global for all upcoming fight odds. 
Jenny Woo, Gambling911.com Senior International Correspondent