Bet How Many Rounds Mayweather vs. Pacquiao Fight Will Go
Published on:
Apr/25/2015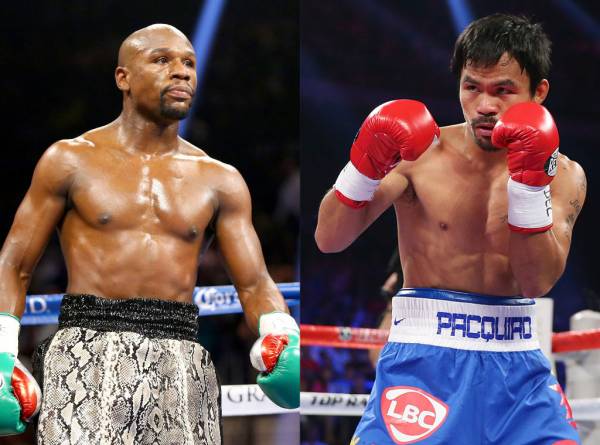 One can bet on how many rounds the May 2 Mayweather vs. Pacquiao fight will go at Sportsbook.ag.

The online sportsbook is offering both group betting and round betting.  Group betting is simply odds offered on who will win in a range of rounds such as 4-6 while round betting is more specific and tend to offer higher payouts.
The favorite for either is Floyd Mayweather, Jr. winning by decision at -140.  This means you would have to bet $14 to win $10 or $140 to win $100.  Your initial wager is refunded should Mayweather in fact win by decision. 
Either fighter winning in Round 1 pays out $5000 for every $100 bet.
MAYWEATHER JR VS PACQUIAO - FIGHT PROPS - Apr 26

Apr 26 - 10:00 PM

MAYWEATHER JR VS PACQUIAO - GROUP BETTING

 
 

1111

MAYWEATHER JR TO WIN IN ROUNDS 1 - 3

+1750 

 
 

1112

MAYWEATHER JR TO WIN IN ROUNDS 4 - 6

+1150 

 
 

1113

MAYWEATHER JR TO WIN IN ROUNDS 7 - 9

+950 

 
 

1114

MAYWEATHER JR TO WIN IN ROUNDS 10 - 12

+950 

 
 

1115

MAYWEATHER JR TO WIN BY DECISION

-140 

 
 

1116

PACQUIAO TO WIN IN ROUNDS 1 - 3

+1750 

 
 

1117

PACQUIAO TO WIN IN ROUNDS 4 - 6

+1150 

 
 

1118

PACQUIAO TO WIN IN ROUNDS 7 - 9

+950 

 
 

1119

PACQUIAO TO WIN IN ROUNDS 10 - 12

+950 

 
 

1120

PACQUIAO TO WIN BY DECISION

+300 

 
 

1121

DRAW

+1350 

Apr 26 - 10:00 PM

MAYWEATHER JR VS PACQUIAO - ROUND BETTING

 
 

1125

MAYWEATHER JR TO WIN IN ROUND 1

+5000 

 
 

1126

MAYWEATHER JR TO WIN IN ROUND 2

+4500 

 
 

1127

MAYWEATHER JR TO WIN IN ROUND 3

+4500 

 
 

1128

MAYWEATHER JR TO WIN IN ROUND 4

+4000 

 
 

1129

MAYWEATHER JR TO WIN IN ROUND 5

+4000 

 
 

1130

MAYWEATHER JR TO WIN IN ROUND 6

+3500 

 
 

1131

MAYWEATHER JR TO WIN IN ROUND 7

+3500 

 
 

1132

MAYWEATHER JR TO WIN IN ROUND 8

+3000 

 
 

1133

MAYWEATHER JR TO WIN IN ROUND 9

+2500 

 
 

1134

MAYWEATHER JR TO WIN IN ROUND 10

+2500 

 
 

1135

MAYWEATHER JR TO WIN IN ROUND 11

+2500 

 
 

1136

MAYWEATHER JR TO WIN IN ROUND 12

+2500 

 
 

1137

MAYWEATHER JR TO WIN BY DECISION

-140 

 
 

1138

PACQUIAO TO WIN IN ROUND 1

+5000 

 
 

1139

PACQUIAO TO WIN IN ROUND 2

+4500 

 
 

1140

PACQUIAO TO WIN IN ROUND 3

+4500 

 
 

1141

PACQUIAO TO WIN IN ROUND 4

+4000 

 
 

1142

PACQUIAO TO WIN IN ROUND 5

+4000 

 
 

1143

PACQUIAO TO WIN IN ROUND 6

+3500 

 
 

1144

PACQUIAO TO WIN IN ROUND 7

+3500 

 
 

1145

PACQUIAO TO WIN IN ROUND 8

+3000 

 
 

1146

PACQUIAO TO WIN IN ROUND 9

+2500 

 
 

1147

PACQUIAO TO WIN IN ROUND 10

+2500 

 
 

1148

PACQUIAO TO WIN IN ROUND 11

+2500 

 
 

1149

PACQUIAO TO WIN IN ROUND 12

+2500 

 
 

1150

PACQUIAO TO WIN BY DECISION

+300 

 
 

1151

DRAW

+1350 
- Don Shapiro, Gambling911.com