The NBA Draft 2010 is quickly approaching and there is plenty to bet on leading up to the big event. 
Submitted by Dan Shapiro on, Jun/23/2010
In their last two games, the surging
Submitted by Payton on, Mar/11/2010
Breaking News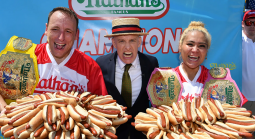 You can bet the Nathan's Hot Dog Eating Contest online at BetOnline
If you showed up at the Meadowlands Race Track Friday evening, chances are you had to participate in a Covid-19 screening that could best be described as an "epic fail".
Online bookies have had a massive surge in popularity in the last 5 years.