Anderson Silva vs. Chael Sonnen Fight Odds – UFC 148 (Video)
Published on:
Jun/29/2012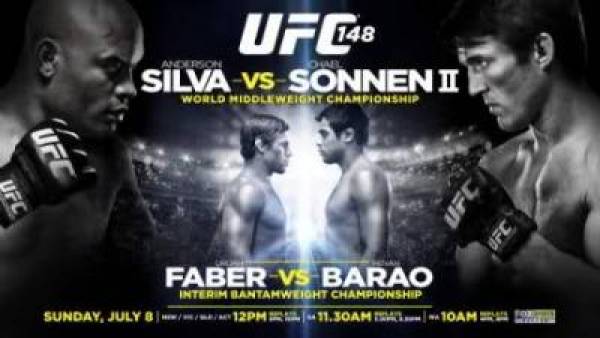 Anderson Silva vs. Chael Sonnen fight odds for the upcoming July 7 2012 UFC 148 event had Silva as a -260 favorite at BetDSI.com, compared to -280 at some online sportsbooks.  Sonnen would pay out $21 for every $10 bet or $210 for every $100 bet.  Scroll down to watch the OddsBreaker video preview for the ‪Forrest Griffin vs Tito Ortiz UFC 148 bout.
Silva comes into this UFC 148 match as the current UFC Middleweight Champion and Sonnen certainly poses a great threat. 
Jeff Waggenheim of Sports Illustrated called this fight one of the most intriguing in UFC history.
What fuels a grand rivalry is not merely the contempt the competitors might feel for one another, but the pendulum of competitiveness swinging through unimaginable possibilities over time. That's the existential function of a rematch: It expands the canvas upon which two artists can collaborate, in the best cases drawing upon past successes and failures to create a wholly new future enhanced by familiarity and not limited by it.
The folks at BetDSI.com, who will be offering LIVE IN-PLAY BETTING on Anderson Silva vs. Chael Sonnen, anticipate heavier than normal wagering due to the venomous exchange between both men leading up to this fight. 
We should point out that two of the originally scheduled fights to take place on the UFC 148 card have since been moved, most notably Michael Bisping vs. Tim Boetsch due to logistical concerns. 
--------------
What The Forums Are Saying About Silva vs. Sonnen
From Cbear at MMA Fighting.net:
Andy just doesnt understand that Shell is his bank accounts best friend. Dana is saying this fight is going to break the 1 million buy mark which would make it the biggest show in a long time and thats going to put millions of extra dollars in Andys disco fund. I can see how he would hate Shell for being his arch nemesis but at the same time, Shell is the one who has made this fight so profitable. Deep down, Evil Ed damn sure knows the score.

And I like Andy going insane in the phone interview and going all Ole Anderson on Shell. Had he been doing that for the last year, this fight could be even bigger than it looks to be.
-------------
Tyrone Black, Gambling911.com