2013 US Open Odds: Tiger Woods 4-1 Favorite
Published on:
Jun/10/2013
Carrie Stroup here with your 2013 US Open odds courtesy of Sportsbook.com.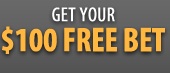 To nobody's surprise, Tiger Woods was listed as a 4/1 favorite with all other contenders starting with 20/1 odds.  Nobody, not even Phil Mickelson, was coming in at single digit odds. 
"Tiger is still the story, because he's won 14 majors," two-time U.S. Open champion Curtis Strange said. "He's still the best player out there. He's arguably the best player we've ever seen. When he's at 85 or 90 percent he's still better than just about anyone else. And there's a lot of people still rooting for this guy. I think Tiger sometimes doesn't realize that. Some don't like him any more, which is fair. But he's still the story. And if he does get to 17 , he'll be on the front page of every newspaper in the world leading up to the next major. That would be the greatest time for golf.
"I personally think he's going to have a tough time doing it. I thought it was a slam dunk. We all did. He's a single father, trying to deal with managing life. He's not 25 any more. He's not the same player. Everything changes. Are you just as focused at his age? It doesn't work like that. I'm sure Jack wasn't. But that's how great they are.
"The fact is, got screwed at the Masters with that bad break. If he wins another major, that intimidation factor is back 100 percent. Don't tell me it's not . . .
"He's come off the mountain top a little bit. That makes for good barroom talk. Like, 'What's wrong with Rory? There ain't a damned thing wrong with Rory.' But it gets people talking. And it always goes back to Tiger. There's just no getting around that."
2013 US Open Odds are below...
Tiger Woods 4/1
Field (Any Other Golfer Where Odds Are Not Specifically Offered) – 8/1 
Matt Kuchar 20/1
Graeme McDowell 20/1
Adam Scott 20/1
Rory McIlroy 20/1 
Phil Mickelson 20/1
Lee Westwood 25/1
Justin Rose 25/1
Charl Schwartzel 30/1
Brandt Snedeker 30/1
Luke Donald 35/1
Dustin Johnson 40/1
Sergio Garcia 40/1
Jason Day 40/1
Keegan Bradley 40/1
Jason Dufner 40/1
Steve Stricker 40/1
Jim Furyk 40/1
Webb Simpson 40/1
- Carrie Stroup, Gambling911.com Senior Reporter