2013 Daytona 500 Betting Odds
Published on:
Feb/22/2013
Carrie Stroup here and all revved up for these great 2013 Daytona 500 betting odds, courtesy of Sportsbook.com.  Claim your FREE $100 BET here (no rollover requirement).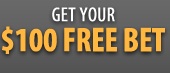 Sunday, February 24 – 1:00 p.m. ET
Daytona International Speedway – Daytona Beach, FL
The NASCAR season is underway with the historic Daytona 500 taking place Sunday. Daytona International Speedway, completed in 1959, is a 2.5-mile, tri-oval track with huge bankings (31-degree turns, 18-degree tri-oval banking). The frontstrech measures 3,800 feet with the backstretch coming in at 3,000 feet. Darkhorse Matt Kenseth (22-to-1 odds) took home the checkered flag last year after a crazy accident and rain postponed the finish of the race until Monday. But his odds to repeat are a much less favorable 10-to-1 odds this time around. Danica Patrick became the first female pole winner in this race, and will try to make history on Sunday.
Drivers to Watch
Tony Stewart (10/1) - Stewart has four career wins at this track, and he'll be starting at a favorable 13th spot on Sunday after finishing sixth in Duel 1. Although he's never won the Daytona 500 race in 14 tries, the odds are certainly favorable for "Smoke" given his success at this track.
Jeff Gordon (12/1) - He hasn't won the Daytona 500 since 2005, but with six career wins at this track, he'll certainly be in the hunt on Sunday. He'll be starting in Row 1 alongside Danica Patrick after a great qualifying run, and is a great candidate to bounce back after his wreck in last year's Daytona 500 sent him to a 40th-place finish.
Greg Biffle (18/1) - Getting 18-to-1 odds for a third-row driver is pretty tremendous. That's especially true when this driver is coming off an outstanding season that included a third-place finish in this race. His history at this track would be even stronger had he qualified better, as he's starting better than ninth place for only the third time in 20 career races at this track. And in the past four restrictor plate races, Biffle has finished 6th, 21st, 5th and 3rd.
Jimmie Johnson (12/1) - Since winning this race in 2006, Johnson has not been a factor in six straight starts at Daytona International Speedway, finishing 31st, 35th, 31st, 20th, 27th and 42nd due to a wreck. Although he'll be starting ninth on Sunday, Johnson's starting position has been eighth or better in five of these past six failed races.
Danica Patrick (30/1) - These are some favorable odds for the pole-winner, especially since her popularity is likely to prompt fans to place a small wager on her. It would certainly be an incredible sports story if she won this race, but realistically, a top-10 finish would be about the best you could expect from such an inexperienced driver.
Carrie Stroup, Gambling911.com Senior Reporter