2011 NHL Playoffs Lines: Odds to Win Stanley Cup
Published on:
Apr/12/2011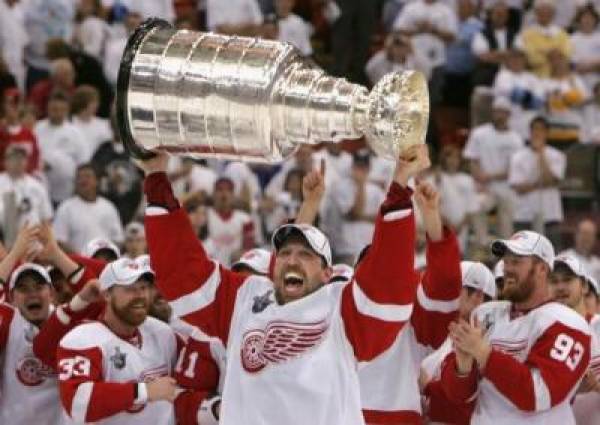 With the NHL regular season wrapping up in dramatic fashion this past weekend, especially for fans in New York and Chicago, it's time to look ahead to the NHL postseason and Sportsbook.com has all your 2011 NHL Playoffs lines as well as odds to win the Stanley Cup. To get you ready for the playoffs, we have analyzed all 16 playoff teams to determine just how long each would last in the postseason. First up is the Capitals/Rangers series.
No. 1 seed WASHINGTON CAPITALS vs. No. 8 seed NEW YORK RANGERS
Game 1 at WSH: Wednesday, 7:30 p.m. ET (Versus, TSN)
Game 2 at WSH: Friday, 7:30 p.m. ET (Versus, TSN)
Game 3 at NYR: Sunday, 3 p.m. ET (NBC, TSN)
Game 4 at NYR: April 20, 7 p.m. ET (Versus, TSN)
Game 5 at WSH: April 23, 3 p.m. ET* (NBC, TSN)
Game 6 at NYR: April 25, TBD* (TSN)
Game 7 at WSH: April 27, TBD* (TSN)
* If necessary
WASHINGTON CAPITALS
(6-to-1 odds to win Stanley Cup)
After getting off to a torrid 14-4-1 start, the defending Presidents' Trophy champions hit a wall over the next 40 games, winning just 16 over that span and looked like they were going to struggle to just reach the playoffs after failing behind Tampa Bay by as many as six points in the Southeast Division. Led by Alex Ovechkin, who registered 11 goals and 29 points, the Capitals went 18-4-1 over their final 23 games to vault from the bottom half of the playoff bracket in the Eastern Conference, to their second consecutive No. 1 seed.
Overall the Capitals team numbers in goal were excellent as they ranked fourth in the NHL in both GAA and Save Pct. However, individually Michal Neuvirth and Semyon Varlamov had their struggles and neither ranked near the top of either statistical category. Rookie Braden Holtby was 10-2-2 with a 1.79 GAA during his time with the Caps, but he doesn't appear to be in Washington's postseason plans.
Washington is eager to erase the painful memories of blowing a 3-1 series lead to the Canadiens in the first round last season. Ovechkin is a true superstar who has shown the ability to take over games when needed, and if he gets continued support from players like Nicklas Backstrom and Alexander Semin, the Caps will be hard to stop. However, Washington will only go as far as Neuvirth and Varlamov can take them.
NEW YORK RANGERS
(30-to-1 odds to win Stanley Cup)
After missing out on the postseason last year by losing in the final game, the Rangers were not about to let the same thing happen to them this season. Needing a win and a loss by Carolina, the Rangers got both and found themselves in the postseason for just the fifth time in their past 13 seasons.
When Henrik Lundqvist is at the top of his game, no goaltender in the NHL is as capable of shutting down their opponent. Lundqvist led the NHL with 11 shutouts this season, and tied a Rangers record for highest single-season Save Pct. (.923).
The Rangers suffered a major loss when Ryan Callahan broke his ankle diving to stop a shot on April 4. Callahan was second on the team in goals scored (23) and tied for second with 48 points.
On defense, the Rangers have a bright future with players such as Marc Staal, Michael Sauer and Dan Girardi all 26 or under and had a combined +35 rating on the season.
The last time the Rangers reached the postseason they allowed a 3-1 series lead to abandon them in a first-round loss to Alex Ovechkin and the Capitals. Despite being a No. 8 seed, the Rangers could be a very dangerous team in this tournament. With Lundqvist, they possess someone who can single-handedly take his club on a long playoff run. The Rangers will get a chance to make up for their first-round blunder a few seasons ago when they get Ovechkin and the Capitals in the first round.
No. 2 seed PHILADELPHIA FLYERS vs. No. 7 seed BUFFALO SABRES
Game 1 at PHI: Thursday, 7:30 p.m. ET (Versus, TSN)
Game 2 at PHI: Saturday, 5 p.m. ET (TSN)
Game 3 at BUF: April 18, 7 p.m. ET (Versus, TSN)
Game 4 at BUF: April 20, 7:30 p.m. ET (Versus, TSN)
Game 5 at PHI: April 22, 7:30 p.m. ET* (Versus, TSN)
Game 6 at BUF: April 24, 3 p.m. ET* (NBC, TSN)
Game 7 at PHI: April 26, TBD* (TSN)
* If necessary
PHILADELPHIA FLYERS
(8-to-1 odds to win Stanley Cup)
The defending Eastern Conference champions are in a much better position to defend their title then they were when they advanced to the Stanley Cup Finals as a No. 7 seed last postseason.
The Flyers offense imposed their will on their opponents this season as seven players have scored as many as 19 goals. Last season's playoff hero Claude Giroux had a breakout second season in the NHL, registering almost 30 more points than his rookie season and leading the Flyers with 76 points. After suffering a groin injury, Danny Briere should return for the first game of the playoffs.
Matt Carle and Kimmo Timonen lead a solid defensive corps that feature four players with as many as 25 points. Team leader Chris Pronger should return by the playoffs after missing the last month with a broken hand.
If the Flyers are susceptible in one area it's goaltending, as both Sergei Bobrovsky and Brian Boucher have struggled down the stretch. Five times since March 1, the Flyers have allowed at least five goals in a game. For most of the second half, Philly looked like it had the first seed in the East all sewn up, but it won just five of its final 15 games, including just one victory in April (against the dreadful Islanders) and barely won the Atlantic Division by a tiebreaker over Pittsburgh who tied Philly with 106 points.
BUFFALO SABRES
(25-to-1 odds to win Stanley Cup)
After bowing out in the first round last season for just the second time in their past eight playoff appearances, the Buffalo Sabres did not start the 2010-11 season out on the right foot. They lost five of their first six games and after 15 games their record stood at 3-9-2.
After five seasons of being one of the best goaltenders in the NHL, Ryan Miller got off to an awful start this season. Miller allowed at least four goals on four different occasions in losing seven of his first 10 starts. Miller eventually found his groove, and was spectacular down the stretch, going 10-4-3 in his last 17 appearances.
The Sabres received balanced scoring on offense as 11 players scored at least 10 goals, led by Thomas Vanek's 32. Vanek and Drew Stafford tied for the team lead with 11 power-play goals. Steve Montador (+16 rating) and Andrej Sekera (+11 rating) led a solid defensive unit throughout the regular season.
Miller has shown he is capable of leading a team deep into the playoffs, as he did in leading Buffalo to the conference finals in his first two playoff appearances. If Miller plays at his absolute best, Buffalo can stick around for a while. However if he reverts back to his early season form, then the Sabres are in trouble because they just don't have the consistent scoring power to deal with deficits.
No. 3 seed BOSTON BRUINS vs. No. 6 seed MONTREAL CANADIENS
Game 1 at BOS: Thursday, 7 p.m. ET (CBC, RDS, Versus)
Game 2 at BOS: Saturday, 7 p.m. ET (CBC, RDS, Versus)
Game 3 at MTL: April 18, 7:30 p.m. ET (CBC, RDS)
Game 4 at MTL: April 21, 7 p.m. ET (CBC, RDS, Versus)
Game 5 at BOS: April 23, 7 p.m. ET* (CBC, RDS, Versus)
Game 6 at MTL: April 26, TBD* (CBC, RDS)
Game 7 at BOS: April 27, TBD* (CBC, RDS)
* If necessary
BOSTON BRUINS
(9-to-1 odds to win Stanley Cup)
Fans in Boston who once saw the cursed Red Sox rebound from a 3-0 deficit against the hated Yankees, suffered the embarrassment of blowing a 3-0 lead when the Bruins were one win from a visit to the Conference Finals last spring.
The Bruins have saddled the back of goaltender Tim Thomas and intend to ride him to wherever he might take them. Thomas led the NHL in GAA and Save Pct., while his nine shutouts ranked second.
Offensively, Boston relies on four very strong lines with 12 players that have scored at least 10 goals. When they need to, the Bruins' top line of Nathan Horton and Milan Lucic, centered by David Krejci, are capable of taking over a game by themselves and posted a combined +80 rating on the season.
Defensively, Zdeno Chara leads a unit that features four players with at least a +15 on the season. Chara was excellent in leading the power-play unit, tying Michael Ryder for the team lead with eight power-play goals.
Very few teams can point to a goaltender as talented as Thomas to lead their team this postseason. Despite his incredible regular season success, Thomas has yet to show he can lead a team through a postseason as he has only advanced beyond the first round once. However, the Bruins have a wonderful mixture of scoring and defense to go along with Thomas that should provide the difference during the toughest moments of the postseason. I like Boston to represent the East in the Cup Finals.
MONTREAL CANADIENS
(30-to-1 odds to win Stanley Cup)
It's been nearly two decades since Montreal last won the Stanley Cup in 1993, marking the longest distance between winning Cups in team history. Last season, Montreal went to the Conference Finals as an eight seed before falling to the Flyers.
Carey Price had a breakout season and finally seemed to earn the respect of the hometown fans. Price tied Roberto Luongo for most wins this season (38), while ranking in the top eight in GAA (2.35) and Save Pct. (.923).
Montreal does not overwhelm you with offensive firepower, as its leading scorer, Tomas Plekanec has just 57 points. What they will do however, is constantly throw a solid line out on the ice with all players capable of putting the puck past the goaltender (13 players earned at least 20 points). Plekanec centers for Andrei Kostitsyn and Michael Cammalleri, who led the league in goals scored during last postseason with 13, while Plekanec added 11 points.
Montreal's defense features heady veterans James Wisniewski and Roman Hamrlik, while rookie P.K. Subban thrived on the power play, leading the team with nine goals.
The Canadiens showed they are capable of making a run to the Cup with the players they had last season, so it's possible they could do that again. However, if Montreal falls behind early, it will have a tough time catching up with its lack of dominant goal scorers (Brian Gionta led the team with 29). Don't expect the Canadiens to make it past the first round this season.
No. 4 seed PITTSBURGH PENGUINS vs No. 5 seed TAMPA BAY LIGHTNING
Game 1 at PIT: Wednesday, 7 p.m. ET (CBC)
Game 2 at PIT: Friday, 7 p.m. ET (CBC)
Game 3 at TB: April 18, 7:30 p.m. ET (Versus, CBC)
Game 4 at TB: April 20, 7 p.m. ET (CBC)
Game 5 at PIT: April 23, TBD* (Versus, CBC)
Game 6 at TB: April 25, TBD* (CBC)
Game 7 at PIT: April 27, TBD* (CBC)
* If necessary
PITTSBURGH PENGUINS
(12-to-1 odds to win Stanley Cup)
Pittsburgh struggled off the bat this season especially at its new home at Consol Center where the Pens lost their first three games and started 2-5 after seven contests. Overall Pittsburgh was 7-8-1 and looked nothing like its dominant teams of the past two seasons, especially in goal where Marc-Andre Fleury was getting lit up like a Christmas tree. After eight games, Fleury had just one win, a 3.13 GAA and a horrid .853 save percentage. Fortunately for Pittsburgh, Fleury regained the form that made him the No. 1 overall pick in the 2003 NHL Draft, finishing the season ranking in the top 10 in GAA and wins.
However, injuries to Sidney Crosby who suffered a concussion in early January, then to Evgeni Malkin in early February, sidelined their top two scorers for the rest of the regular season. Crosby is expected to remain out throughout this postseason.
Despite injuries, Pittsburgh has been able to ride its depth to another 100-point season which itself is an amazing accomplishment when playing without two of the league's top players for most of the second half of the season. However, even if Crosby miraculously returns, the Penguins just don't have the horses to get very far. Expect them to show enough grit and pride to win a series, but not much else in an Eastern Conference with solid goaltending and chock full of offensive superstars.
Carrie Stroup, Gambling911.com Senior Reporter
As always, you can Follow us on Twitter for all the latest breaking gambling news. (around the clock gambling news)