Jenny Woo here for Gambling911.com and of course they drag me out to cover - what else? - 2008 Summer Olympics Women's Volleyball. I'm not complaining. No Siree...
The USA Volleyball team led by Misty May Treanor and Kerri Walsh have been listed as a huge -3000 favorite against Norway, led by Nila Ann Hakedal and Ingrid Torlen (+1000). So unless you really wanted Norway to win, chances are you'll be watching this matchup without a bet placed. In fact, few online gambling sites were offering odds on this women's volleyball event. BetUS.com was one of the few.
But let's get real, the vast majority of you won't be watching USA vs. Norway for their serving skills....and maybe not to even see them win the gold. With -3000 odds, we already know who wins Wednesday night. Seeing a bunch of bikini-clad babes bounce around a volleyball court.....Count Jenny in here.
Treanor and Walsh both captured the Olympic gold in 2004 and they are set to do it again. They are ranked number 1 in the world but China got number 1 seed at the 2008 Beijing Games because they are the host country. Women's volleyball is among the most viewed events in China as well. I wonder why.
Misty May-Treanor is married to Florida Marlins baseball player Matt Treanor. Her career earnings to date are in excess of $1.7 million. The 31 year old is 5'10″ and is nicknamed The Turtle.
in November to repair a rotator cuff injury and remove a bone spur that had been pushing into a tendon. She is wearing ink-black 'kinesio tape' on the shoulder to increase blood flow.
The duo have won 18 tournaments in a row, 118 matches.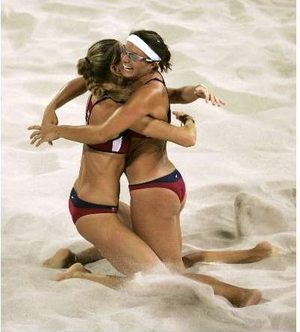 Okay, but I gotta give a shout out to my Norwegian fans, having visited the country for the FHM Babes Poker Tournament there a few summers ago.
They finished 22nd at the 2004 Olympics, whilst the very long odds.
I am of course routing for Team USA and hoping for a wardrobe malfunction during a violent spike.
----
Jenny Woo, Gambling911.com Senior Correspondent