2008 Breeders Cup Betting Odds
Published on:
Oct/21/2008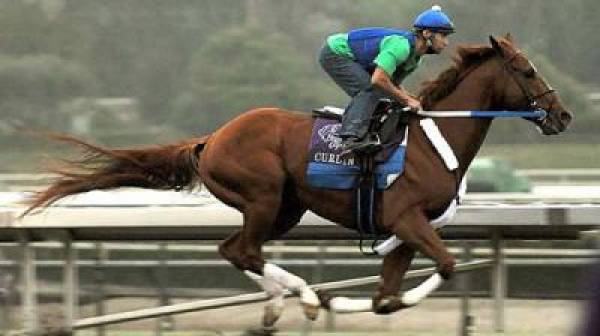 The 2008 Breeders Cup betting odds have been released with betED.com - like most online race books - making Curlin the near even favorite. At +150, Curlin would pay out $150.
Curlin drew the number 9 position. Trainer Steve Asmussen was pleased with the positioning, saying it will give the reigning horse of the year plenty of running room toward the first turn in the 1 1/4-mile race.
Curlin, who is seeking his second straight Classic win, is only one of three horses Asmussen will saddle in the big race. He also will run Pyro, the best 3-year-old in his arsenal, and Student Council, the Pacific Classic winner, who, he said, is "sitting on a huge race."
Pyro and Student Council would eachpay $1500 on a $100 bet.
In a word, the trainer is shooting the works in the Classic, leaving nothing to chance, according to the New York Post.
"They're all accomplished horses and this is the world-championship event, so they deserve the chance," Asmussen said, explaining why he is running two other horses against his champ.
Casino Drive, Colonel John and Go Between are all listed with single digit odds at betED.com
Championship Saturday features nine open Breeders' Cup races on an 11-race card, starting with the Breeders' Cup Marathon followed by the Turf Sprint, Dirt Mile, Breeders' Cup Mile, Breeders' Cup Juvenile, Juvenile Turf, Breeders' Cup Sprint, Breeders' Cup Turf and the Classic.
The featured race is the $5 million Breeders' Cup Classic at 1 1/4 miles.
2008 Breeders Cup betting odds appear below and can be wagered on at betED.com. Remember, betED.com is offering top cash bonuses including a 50 percent cash bonus if your first bet placed with them is a winner. Learn More Here
Casino Drive +600 - -
Colonel John +600 - -
Curlin +150 - -
Divine Park +1500 - -
Duke Of Marmalade +500 - -
Go Between +700 - -
Harlem Rocker +2500 - -
Henrythenavigator +300 - -
Mambo In Seattle +1250 - -
Mast Track +2500 - -
Pyro +1500 - -
Student Council +1500 - -
Tiago +1500 - -
Well Armed +1000 - -
Zenyatta +1100 - -
----
Dan Shapiro, Gambling911.com