You can bet the Georgia vs. South Carolina game online at AceSportsbook.com here.  Georgia was seeing heavy action here with nearly 90% of the backing. The Bulldogs will be a road favorite for the first time in this series since 2008.  A South Carolina outright win pays $21.50 for every $10 bet on the money line.
This one opened at Gamecocks +4.5 and quickly shot up to +6.5 as bookmakers were desperately trying to get action on South Carolina, perhaps with good reason.
ESPN.com Insider Phil Steele says of these Gamecocks: "While it should be noted that this is the first time South Carolina finds itself a home underdog since the memorable 35-21 upset of No. 1 Alabama in 2010, Spurrier has admitted this Gamecocks team is not as talented as the past editions. That doesn't bode well against a young Georgia team that could get better as the season goes on."
Bookies will be hoping for a South Carolina cover here.  History may be on their side as the Gamecocks had won three of four in the series, losing to Georgia last year.
The UNDER is 7-0 in the last 7 meetings in South Carolina and 13-3 in the last 16.  The total for this game is 59.5.  The UNDER 59.5 seems like the logical pick here.  65% of the public betting the total were backing the UNDER.
Scroll Down for Odds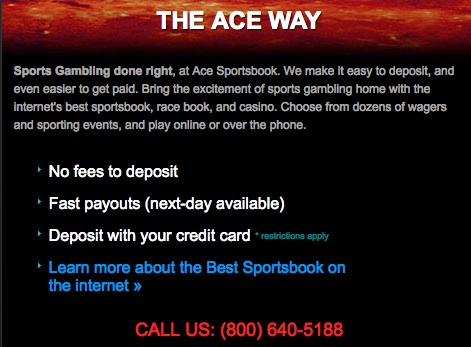 NCAA FOOTBALL - MEN - Sep 11

 

Sep 11

103

LOUISIANA TECH

+3½-105

o47-110

 
 

8:00 PM

104

NORTH TEXAS

-3½-115

u47-110

 
 

Sep 11

105

HOUSTON U

+17½-110

o58½-110

 
 

9:00 PM

106

BYU

-17½-110

u58½-110

 

NCAA FOOTBALL - MEN - Sep 12

 

Sep 12

107

TOLEDO

+10½-110

o58½-110

+300

 

7:00 PM

108

CINCINNATI U

-10½-110

u58½-110

-360

 

Sep 12

109

BAYLOR

-34½-110

o69½-110

 
 

8:00 PM

110

BUFFALO U

+34½-110

u69½-110

 

NCAA FOOTBALL - MEN - Sep 13

 

Sep 13

111

INDIANA

-7½-110

o70½-110

 
 

12:00 PM

112

BOWLING GREEN

+7½-110

u70½-110

 
 

Sep 13

113

OHIO

+20-110

o56½-110

 
 

12:00 PM

114

MARSHALL

-20-110

u56½-110

 
 

Sep 13

115

CENTRAL FLORIDA

+9½-110

o54½-110

 
 

12:00 PM

116

MISSOURI

-9½-110

u54½-110

 
 

Sep 13

117

NC STATE

-1½-110

o51½-110

 
 

3:30 PM

118

SOUTH FLORIDA

+1½-110

u51½-110

 
 

Sep 13

119

MIAMI OHIO

+30½-110

o53½-110

 
 

3:30 PM

120

MICHIGAN

-30½-110

u53½-110

 
 

Sep 13

121

KENT STATE

+31½-110

o51-110

 
 

12:00 PM

122

OHIO STATE

-31½-110

u51-110

 
 

Sep 13

123

EASTERN MICHIGAN

+18-110

o72½-110

 
 

6:00 PM

124

OLD DOMINION

-18-110

u72½-110

 
 

Sep 13

125

EAST CAROLINA

+11-110

o53½-110

 
 

12:00 PM

126

VIRGINIA TECH

-11-110

u53½-110

 
 

Sep 13

127

SYRACUSE

-7-105

o50½-110

 
 

12:00 PM

128

CENTRAL MICHIGAN

+7-115

u50½-110

 
 

Sep 13

129

PITTSBURGH U

-26-110

o48-110

 
 

12:00 PM

130

FLORIDA INTL

+26-110

u48-110

 
 

Sep 13

131

BOISE STATE

-16-110

o49-110

 
 

12:00 PM

132

CONNECTICUT

+16-110

u49-110

 
 

Sep 13

133

GEORGIA SOUTHERN

+19-110

o56½-110

 
 

12:00 PM

134

GEORGIA TECH

-19-110

u56½-110

 
 

Sep 13

135

IOWA STATE

+10½-110

o48½-110

 
 

3:30 PM

136

IOWA

-10½-110

u48½-110

 
 

Sep 13

137

WEST VIRGINIA

+3½-110

o57½-110

 
 

12:00 PM

138

MARYLAND

-3½-110

u57½-110

 
 

Sep 13

139

MASSACHUSETTS

+17-110

o46-110

 
 

12:00 PM

140

VANDERBILT

-17-110

u46-110

 
 

Sep 13

141

LOUISVILLE

-7-105

o48-110

 
 

12:30 PM

142

VIRGINIA

+7-115

u48-110

 
 

Sep 13

143

WYOMING

+43½-110

o64-110

 
 

2:00 PM

144

OREGON

-43½-110

u64-110

 
 

Sep 13

145

AIR FORCE

-11-110

o59½-110

-442

 

2:00 PM

146

GEORGIA STATE

+11-110

u59½-110

+367

 

Sep 13

147

WESTERN KENTUCKY

+1½-110

o64½-110

 
 

7:00 PM

148

MIDDLE TENN ST

-1½-110

u64½-110

 
 

Sep 13

149

KANSAS

+15-110

o55½-110

 
 

3:30 PM

150

DUKE

-15-110

u55½-110

 
 

Sep 13

151

GEORGIA

-6-110

o59½-110

 
 

3:30 PM

152

SOUTH CAROLINA

+6-110

u59½-110

 
 

Sep 13

153

ARKANSAS

+2½-110

o67-110

+110

 

3:30 PM

154

TEXAS TECH

-2½-110

u67-110

-130

 

Sep 13

155

ARKANSAS STATE

+16½-110

o53½-110

 
 

3:30 PM

156

MIAMI FLORIDA

-16½-110

u53½-110

 
 

Sep 13

157

MISSISSIPPI ST

-14-110

o54½-110

 
 

4:00 PM

158

SOUTH ALABAMA

+14-110

u54½-110

 
 

Sep 13

159

UL LAFAYETTE

+27-110

o58½-110

 
 

4:00 PM

160

MISSISSIPPI

-27-110

u58½-110

 
 

Sep 13

161

ILLINOIS

+13½-110

o65-110

 
 

4:00 PM

162

WASHINGTON U

-13½-110

u65-110

 
 

Sep 13

163

MINNESOTA U

+16-110

o48½-110

+500

 

4:00 PM

164

TCU

-16-110

u48½-110

-700

 

Sep 13

165

WESTERN MICHIGAN

+3-110

o59½-110

+125

 

5:00 PM

166

IDAHO

-3-110

u59½-110

-145

 

Sep 13

167

ARMY

+28-110

o53-110

 
 

5:00 PM

168

STANFORD

-28-110

u53-110

 
 

Sep 13

169

SOUTHERN MISS

+47½-110

o56-110

 
 

6:00 PM

170

ALABAMA

-47½-110

u56-110

 
 

Sep 13

171

WAKE FOREST

+14-110

o44-110

 
 

7:00 PM

172

UTAH STATE

-14-110

u44-110

 
 

Sep 13

173

TULSA

PK-110

o52-110

 
 

7:00 PM

174

FLORIDA ATLANTIC

PK-110

u52-110

 
 

Sep 13

175

TEX SAN ANTONIO

 

o54½-110

 
 

7:00 PM

176

OKLAHOMA STATE

 

u54½-110

 
 

Sep 13

177

UL MONROE

+31-110

o51½-110

 
 

7:00 PM

178

LSU

-31-110

u51½-110

 
 

Sep 13

179

PURDUE

+28-110

o57-110

 
 

7:30 PM

180

NOTRE DAME

-28-110

u57-110

 
 

Sep 13

181

KENTUCKY

+17½-110

o51½-110

 
 

7:30 PM

182

FLORIDA

-17½-110

u51½-110

 
 

Sep 13

183

NAVY

-10-115

o56½-110

 
 

8:00 PM

184

TEXAS STATE

+10-105

u56½-110

 
 

Sep 13

185

TENNESSEE U

+21-110

o55½-110

 
 

8:00 PM

186

OKLAHOMA

-21-110

u55½-110

 
 

Sep 13

187

NEW MEXICO STATE

+11-110

o60½-110

+347

 

8:00 PM

188

UTEP

-11-110

u60½-110

-417

 

Sep 13

189

UCLA

-7-115

o50-110

 
 

8:00 PM

190

TEXAS

+7-105

u50-110

 
 

Sep 13

191

PENN STATE

-3½-105

o51½-110

 
 

8:00 PM

192

RUTGERS

+3½-115

u51½-110

 
 

Sep 13

193

USC

-17-110

o55-110

 
 

8:00 PM

194

BOSTON COLLEGE

+17-110

u55-110

 
 

Sep 13

195

RICE

+31½-110

o71½-110

 
 

9:00 PM

196

TEXAS A&M

-31½-110

u71½-110

 
 

Sep 13

197

NO ILLINOIS

-10-105

o54½-110

 
 

7:00 PM

198

UNLV

+10-115

u54½-110

 
 

Sep 13

199

ARIZONA STATE

-15-110

o68½-110

 
 

10:00 PM

200

COLORADO

+15-110

u68½-110

 
 

Sep 13

201

NEBRASKA

-10½-110

o62½-110

 
 

10:30 PM

202

FRESNO STATE

+10½-110

u62½-110

 
 

Sep 13

203

NEVADA

+16-110

o63-110

 
 

11:00 PM

204

ARIZONA U

-16-110

u63-110

 
- Mary Montgomery, Gambling911.com