Washington Redskins Prediction 2013
Published on:
Aug/17/2013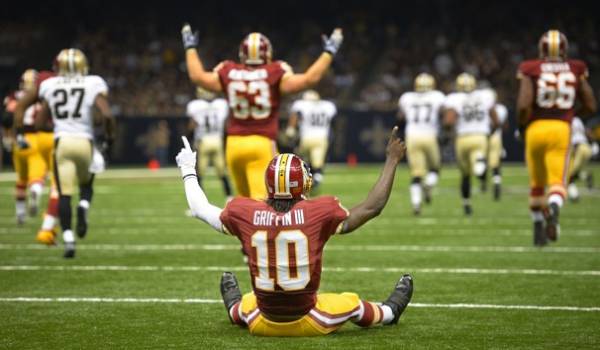 Gambling911.com has your Washington Redskins 2013 prediction as we attempt to figure out the outcome of each week's regular season games.  

Odds to win Super Bowl (2014) – 27/1
Odds to win NFC Championship – 15/1
Odds to win NFC East – 2/1
Regular Season Wins Total OVER 8.5 at Even
Regular Season Wins Total UNDER 8.5 at -120
2013 schedule
Sept. 9 Philadelphia Eagles, (Mon) 7:10 p.m.
Sept. 15 at Green Bay Packers, 1:00 p.m.
Sept. 22 Detroit Lions, 1:00 p.m.
Sept. 29 at Oakland Raiders, 4:25 p.m.
Bye Week
Oct. 13 at Dallas Cowboys, 8:30 p.m.
Oct. 20 Chicago Bears, 1:00 p.m.
Oct. 27 at Denver Broncos, 4:25 p.m
Nov. 3 San Diego Chargers, 1:00 p.m.
Nov. 7 at Minnesota Vikings, (Thurs) 8:25 p.m.
Nov. 17 at Philadelphia Eagles, 1:00 p.m.
Nov. 25 San Francisco 49ers, (Mon) 8:40 p.m.
Dec. 1 New York Giants, 8:30 p.m.
Dec. 8 Kansas City Chiefs, 1:00 p.m.
Dec. 15 at Atlanta Falcons, 1:00 p.m.
Dec. 22 Dallas Cowboys, 1:00 p.m.
Dec. 29 at New York Giants, 1:00 p.m.
Experts unanimously believe the Redskins will lose against Green Bay in Week 2, Dallas in Week 6, Denver in Week 8, San Francisco in Week 12, Atlanta in Week 15 and New York (Giants) in Week 17.
This still gives us 10 wins for the regular season with the price at EVEN.
Kevin Ewold of AthlonSports.com: 
With RGIII coming back from major knee surgery and the Redskins facing all first-place opponents in the NFC East, common logic one would think it'd be hard for the Redskins to repeat their 10-win season. However, here are some key points: Of the Redskins' 22 starters from last season, 21 are returning. The lone player that left per the Redskins' decision was free safety Madieu Williams, who could not get the job done. The Redskins drafted a lot of defenders so it's hard to imagine the defense regresses any, especially with the return of Brian Orakpo, who essentially missed all of last season. On the offensive side, Pierre Garcon is 100 percent healthy again and the Redskins were 9-1 with him in the lineup last year. Playmaker Fred Davis also returns. Finally, Kirk Cousins has looked phenomenal this year so far, so barring any setbacks with RGIII, the offense should be able to still get the job done. 11-5.
There is some speculation – and mind you, this is only speculation – that Robert Griffin III could be held out until after the Week 5 bye week.  Kirk Cousins is capable of holding this team together those first four weeks with a soft schedule outside of Green Bay.  It is practical to think this squad can go 2-2 without RGIII over that period, thus bringing us down to 9 regular season wins on the regular season.  But we still have an OVER going.  Therefore we are still high on the OVER, with or without RGIII in the mix early on.
- Don Shapiro, Gambling911.com