Virginia Tech vs. Georgia Tech Thursday Night NCAA Football Pick
Published on:
Sep/25/2013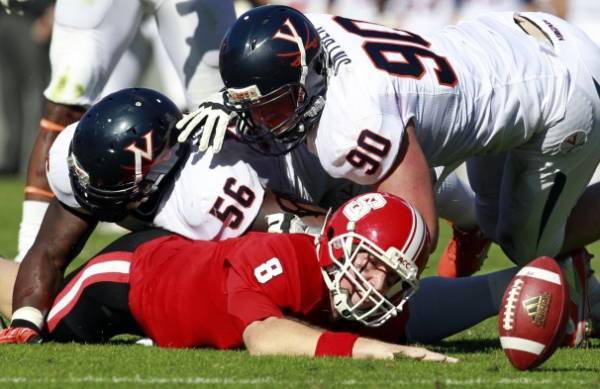 This Thursday the college game of the week is set to be one for the ages as Virginia Tech will take on Georgia Tech in a showdown of powerhouse football action. Week 5 is going to quite an interesting week and it starts at 7:30 EST on ESPN. Virginia Tech has been on a roll since they lost their opener and are going straight in with a momentum that is making them quite interesting against Georgia Tech.
Free Prediction Given by SportsCashSystem.com lead handicapper, Mike Taylor
Current line: Virginia Tech +7 / Over & Under at 41 ½
Time:  Thursday, September 26, 7:30 pm (EST) ESPN, WatchEspn.com
Georgia Tech is coming in on a high note winning their last game, and it will be interesting to see how they are going to fight against the Virginia Tech fast paced offense, when it's running at full speed. Their high paced offense is going to tire out Georgia Tech, is it can get going fast. Logan Thomas is going to be the one to watch here, especially under pressure. Georgia Tech is going to have to watch for the triple option as they are running it quite well.
Georgia Tech is not an easy school to beat, so let's not discount what they can do on the field. So far this season, when Georgia finds out what is going on in the first half, they make serious adjustments and then pummel their opponents in the second. So watch out for this momentum shift leading into the third quarter of the game if they are losing at the first half. That doesn't mean that they are going to walk all over Virginia Tech, but it certainly stands to make this one an interesting matchup.
The Match Up
The Yellow Jackets at home are a great team to watch, but will they be able to take on the high speed option offense that is coming their way? They have a good six game winning streak at home when it comes to the line, and they will most likely put on a good showing. However, we're going to go with Virginia Tech as they have all the weapons to score a lot of points. That may not win the game outright, but look for them to survive yet again and keep their winning streak alive. The key here is playing perfect football, and after that punishing loss in their first game, it looks like they are poised to pull out yet another game.
The Edge:
Virginia Tech +7
SportsCashSystem.com Prediction: Virginia Tech +7
More info about the #1 rated http://www.SportsCashSystem.com/ :
Sports Cash System is known as one of the best year round sports systems available today. For those bettors who think "systems can't work" , you will be shocked by the constant results Sports Cash System has been producing for its members, 4 years running. 
While other handicappers may try to charge you $50, $100 or more per day for picks, Tommy Krieg has stuck with his one flat rate for all of his picks, every month. You will get a unique and secure login and password to his Sports Cash System members area and get everything you need to profit month after month.
Tommy Krieg's #1 goal is to keep his players in the profit zone every month. Sports Cash System is truly one of a kind.  Watch the FREE video preview of how the system works by clicking here.
Watch the video explaining the system below: