Utah State vs. San Jose State Friday Night Betting Pick
Published on:
Sep/25/2013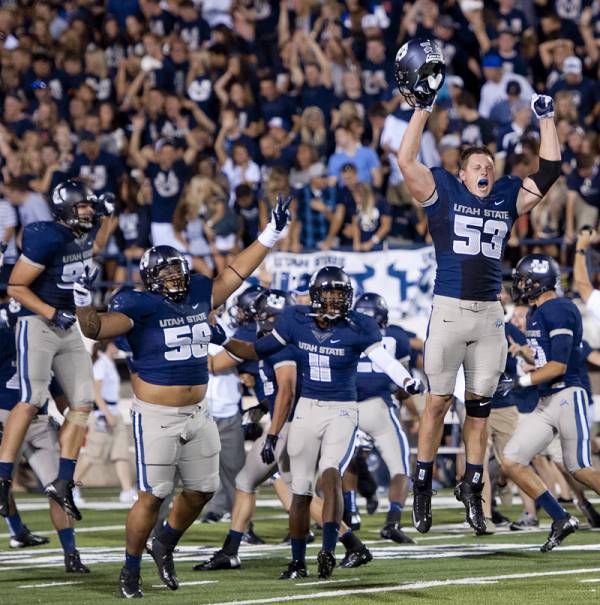 Utah State and San Jose State are set to go head to head in this week's Friday night primetime game, and these two schools will definitely bring on a good showing, as they have some strong points overall. The Aggies will look to avenge their loss at USC by taking it out on a San Jose team that may not be ready for what's coming at them.
Free Prediction Given by SportsCashSystem.com lead handicapper, Mike Taylor
Current line: Utah State – 10/ Over & Under at 61
Time:  Friday, September 27, 9:00 pm (EST) ESPN, Watchespn.com
Let's consider what happened at USC first, and we can start to fully get a picture for what may happen this Friday against San Jose State. They were really impressive against a much larger school, and did not for one second let the USC team stomp them out like some analysts thought they would. That being said, San Jose State is not USC, and even though they have some good overall players, they are not going to be able to with stand the Aggies this time around. Utah State is doing something grand in their program and it showed against their last opponent, so this very well may be another shot at getting into the mainstream again and proving that they aren't going anywhere.
San Jose lost two back to back games and will have something to prove against Utah State. The one thing that people forget is that a loss can really teach you something about your team, and if that's the case here, we're going to see a hard fought battle. Of course, that means that Utah State will have to put their guard down a little to allow for this team to battle forward and make their mark. The Spartans will need to absolutely watch for David Fales and make sure they do not let the Aggies pummel him. Last year he was sacked 13 times, and he's not going to want to move here and get hit hard again, so look for added protection on that end.
The Match Up:
It's not a hard sell, the favored team is going to win this one. Chuckie is making a name for himself on the Aggies team, and he is impressive. He'll be throwing, running, and fooling the defense of The Spartans and will lead the team yet again to the "W". San Jose may have a fighting chance, but they won't make it, they just won't, so watch for the Aggies to run up the score on a tired Spartans defense in the fourth.
The Edge:
Utah State – 10
SportsCashSystem.com Prediction: Utah State – 10
More info about the #1 rated http://www.SportsCashSystem.com/ :
Sports Cash System is known as one of the best year round sports systems available today. For those bettors who think "systems can't work" , you will be shocked by the constant results Sports Cash System has been producing for its members, 4 years running. 
While other handicappers may try to charge you $50, $100 or more per day for picks, Tommy Krieg has stuck with his one flat rate for all of his picks, every month. You will get a unique and secure login and password to his Sports Cash System members area and get everything you need to profit month after month.
Tommy Krieg's #1 goal is to keep his players in the profit zone every month. Sports Cash System is truly one of a kind.  Watch the FREE video preview of how the system works by clicking here.
Watch the video explaining the system below: