The NCAA Football 2013 season kicks off this August 29th and we have your Week 1 predictions and season outlook courtesy of Randy Mann.  All odds courtesy of BetDSI.com, which was offering up to $2500 in FREE CASH for new customers.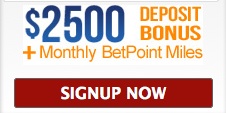 With all of the hype that follows the great athletes and top ranked teams, it is good to get some perspectives on which teams and what stud players will be making headlines in 2013. 
For the gambling man, of course it is always better to know which teams can help put a little money in your pocket this season. 
We stumbled across the start of an interesting new video series which entertains while passing along some decent Odds to win info. 
In this video segment show host Randy Mann Breaks down South Carolina Odds to win the 2013 BCS Title. 
Randy also covers JaDeveon Clowney happenings and the Steve Spurrier led Gamecocks season outlook. 
If you are looking to bet on NCAA Football Futures odds and get some fun and insightful info, then you will definitely enjoy the video.
(Watch the video below).  Football Odds provided by BetDSI.com
- Don Shapiro, Gambling911.com