NC State vs. St. Louis Free Pick: Latest NCAA Tournament Odds
Published on:
Mar/20/2014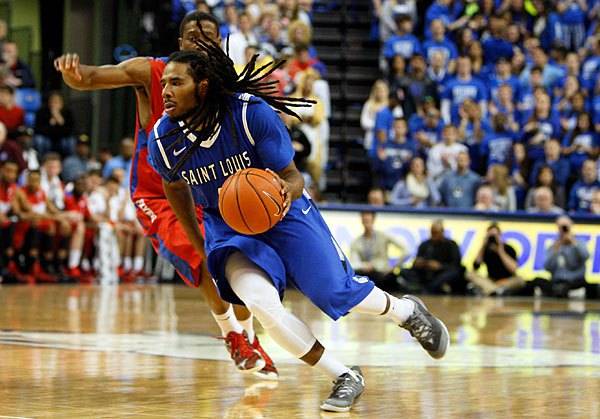 Gambling911.com has your NC State vs. St. Louis free pick with all odds courtesy of AceSportsbook.com here.   
Our play today is on St. Louis at -2.5.  Despite most of the action coming in on North Carolina State, the line has been trending towards the -3 from -2.5. 
Remember, four of St. Louis' six losses this season occurred over their last five games.  They looked like one of the best teams in the country throughout much of the season and they boast a top 10 defense.
This is a Sweet 16 team carried over from last year, having maintained most of their players from that March Madness performance.
Sports bettors are backing the Wolfpack heavy due to their sudden late season spark while St. Louis has been trending in the opposite direction.
The Wolfpack don't pose much of a threat outside the arc, which should provide the defense-minded Billikens with the advantage here.
NCAA BASKETBALL - MEN - Mar 20

NCAA TOURNAMENT FIRST NIAGARA CENTER - BUFFALO, NY

2ND ROUND

 

Mar 20

709

DAYTON

+6½-115

o131½-110

+225

 

12:15 PM

710

OHIO STATE

-6½-105

u131½-110

-265

 

Mar 20

711

WESTERN MICHIGA

+12½-110

o128-110

+700

 

2:45 PM

712

SYRACUSE

-12½-110

u128-110

-1100

 

Mar 20

713

ST. JOSEPH'S

+4½-110

o131½-110

+170

 

6:55 PM

714

CONNECTICUT

-4½-110

u131½-110

-200

 

Mar 20

715

WISC MILWAUKEE

+16½-110

o140-110

 
 

9:25 PM

716

VILLANOVA

-16½-110

u140-110

 

NCAA TOURNAMENT FIRST NIAGARA CENTER

2ND ROUND

 

Mar 20

717

.

+21½-110

o121-110

 
 

4:10 PM

718

FLORIDA

-21½-110

u121-110

 
 

Mar 20

719

PITTSBURGH

-5½-110

o128½-110

-280

 

1:40 PM

720

COLORADO

+5½-110

u128½-110

+240

 

Mar 20

721

.

+3-110

o132-110

+135

 

7:20 PM

722

SAINT LOUIS

-3-110

u132-110

-155

 

Mar 20

723

MANHATTAN

+16½-110

o142½-110

 
 

9:50 PM

724

LOUISVILLE

-16½-110

u142½-110

 

NCAA TOURNAMENT AMWAY ARENA ORLANDO FL

2ND ROUND

 

Mar 20

725

BYU

+5½-105

o158-110

+200

 

3:10 PM

726

OREGON

-5½-115

u158-110

-240

 

Mar 20

727

AMERICAN

+14-115

o121½-110

+850

 

12:40 PM

728

WISCONSIN

-14-105

u121½-110

-1300

 

Mar 20

729

ARIZONA STATE

+2-110

o142-110

+110

 

9:40 PM

730

TEXAS

-2-110

u142-110

-130

 

Mar 20

731

WOFFORD

+16-110

o130-110

 
 

7:10 PM

732

MICHIGAN

-16-110

u130-110

 

NCAAA TOURNAMENT SPOKANE ARENA SPOKANE WA

2ND ROUND

 

Mar 20

733

HARVARD

+3-110

o122-110

+135

 

2:10 PM

734

CINCINNATI

-3-110

u122-110

-155

 

Mar 20

735

DELAWARE

+14-110

o154-110

+1000

 

4:40 PM

736

MICHIGAN STATE

-14-110

u154-110

-1500

 

Mar 20

737

NORTH DAKOTA ST

+3½-115

o152-110

+150

 

7:25 PM

738

OKLAHOMA

-3½-105

u152-110

-170

 

Mar 20

739

NEW MEXICO STAT

+7½-105

o128-110

+260

 

9:55 PM

740

SAN DIEGO STATE

-7½-115

u128-110

-320

NCAA BASKETBALL - MEN - Mar 21

NCAA TOURNAMENT ONC ARENA RALEIGH , NC

2ND ROUND

 

Mar 21

821

.

 
 
 
 

2:45 PM

822

MASSACHUSETTS

 
 
 
 

Mar 21

823

MERCER

+13-110

o140½-110

+800

 

12:15 PM

824

DUKE

-13-110

u140½-110

-1250

 

Mar 21

825

COASTAL CAROLIN

+21-105

o122½-110

 
 

9:25 PM

826

VIRGINIA

-21-115

u122½-110

 
 

Mar 21

827

GEORGE WASHINGT

+3-110

o142-110

+135

 

6:55 PM

828

MEMPHIS

-3-110

u142-110

-155

NCAA TOURNAMENT SCOTTRADE CENTER ST LOUIS MO

2ND ROUND

 

Mar 21

829

STANFORD

+3-110

o137-110

+143

 

1:40 PM

830

NEW MEXICO

-3-110

u137-110

-163

 

Mar 21

831

EASTERN KENTUCK

+14½-110

o148-110

+1000

 

4:10 PM

832

KANSAS

-14½-110

u148-110

-1500

 

Mar 21

833

.

 
 
 
 

7:10 PM

834

WHICITA STATE

 
 
 
 

Mar 21

835

KANSAS STATE

+5-110

o132½-110

+190

 

9:40 PM

836

KENTUCKY

-5-110

u132½-110

-230

NCAA TOURNAMENT AT&T CENTER SAN ANTONIO TX

2ND ROUND

 

Mar 21

837

NEBRASKA

+3½-110

o131-110

+160

 

12:40 PM

838

BAYLOR

-3½-110

u131-110

-185

 

Mar 21

839

UL LAFAYETTE

+14-110

o154½-110

+850

 

3:10 PM

840

CREIGHTON

-14-110

u154½-110

-1300

 

Mar 21

841

PROVIDENCE

+4-110

o143-110

+160

 

7:20 PM

842

NORTH CAROLINA

-4-110

u143-110

-185

 

Mar 21

843

NC CENTRAL

+8½-110

o143½-110

+380

 

9:50 PM

844

IOWA STATE

-8½-110

u143½-110

-475

NCAA TORUNAMENT VIEJAS ARENAS SAN DIEGO

2ND ROUND

 

Mar 21

845

STEPHEN AUSTIN

+6½-105

o136½-110

+230

 

7:25 PM

846

VA COMMONWEALTH

-6½-115

u136½-110

-270

 

Mar 21

847

TULSA

+8½-110

o146-110

+350

 

9:55 PM

848

UCLA

-8½-110

u146-110

-440

 

Mar 21

849

WEBER STATE

+20-105

o127½-110

 
 

2:10 PM

850

ARIZONA

-20-115

u127½-110

 
 

Mar 21

851

OKLAHOMA STATE

-2-105

o139-110

-135

 

4:40 PM

852

GONZAGA

+2-115

u139-110

+115
- Tyrone Black, Gambling911.com