NBA All Star Game Betting Predictions 2016
Published on:
Feb/13/2016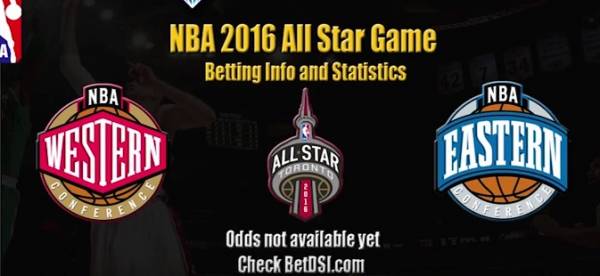 Gambling911.com has your NBA All Star Game betting predictions for Sunday.  Check out the video below.
Ad: Claim Hundreds of Dollars in Free Cash.  Bet Live In-Play Most Games.  Online Since 1997
How To Bet On The All-Star Game
You have two sides for the All-Star Game, the Eastern Conference and the Western Conference. One team is going to be favored, which will be shown by a negative sign, so one might be listed at -175. That means you would have to bet $175 to win $100 on that team. Then the other team would be the underdog, which will be shown by a positive sign, so for example, +130. This means you would bet $100 to win $130 on that team. Then you have the over/under, which has to do with the points scored, where there is a total posted. For example, your sportsbook might post a total of 312; you bet on whether the actual total will come in over or under that number. Then you can bet on who the MVP will be, and the players will be listed with their odds, which usually have a positive sign in front, but can have a negative sign.
Scroll Down For More
2016 All-Star Roster
One of the biggest surprises – in some respect – for the 2016 NBA All-Star selections was that Kobe Bryant was named to the team. He has been enduring his worst season as a pro but the fans wanted to see him there, so he was voted to the roster. The game is being played in Toronto, so the local fans will be happy to see two of their Raptors in the game with Kyle Lowry and DeMar DeRozan.
NBA Picks
The East has the home court edge if you want to call it that in Toronto but the West has more talent led by Curry who is averaging nearly 30 points per game. I will lay the points and take the West and also play the game over the total.