The Michigan State Football betting odds for winning the 2013 Big 10 Championship were set at +550. This is a little hard to fathom happening in a conference that includes Ohio State, Nebraska and Michigan.  While the Buckeyes look slightly more invincible, Michigan and Nebraska do not.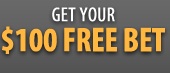 Road games at Notre Dame, Nebraska and Northwestern (the 3 N's) should keep the Spartans record at 9 wins on the season.  Oddsmakers were kind enough to post a regular season wins total at 8.5 but with a ridiculous price tag of -170.  Ouch!!!!
For the record, Ohio State is favored to win UNDER 11 regular season games.  So if Michigan State can take one of those three challenging road games and the Buckeyes meet oddsmakers expectations, the Spartans could conceivably win this conference at +550 odds.  We'd take this over paying -170 on the OVER 8.5. Not that we think it is going to happen per se, but the payout would be lucrative on, say, $10 ($55 win). 
Do what 60 percent of those wagering on this conference are doing and place your $100 wager on Ohio State at another online sportsbook like Bookmaker.
- Tyrone Black, Gambling911.com