LSU vs. Auburn FREE NCAA Football Pick
Published on:
Sep/19/2013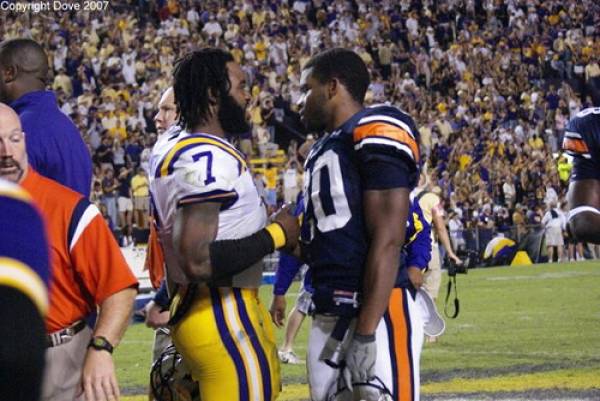 One of the big rivalries that you are going to always hear about in college football is that of Auburn and LSU. These two teams meet and a frenzy erupts on both sides of the football. No matter who has the advantage, it seems to be slim, because when the game begins the two take on a whole new level of athleticism.
Free Prediction Given by SportsCashSystem.com lead handicapper, Mike Taylor
Current line: LSU at 7 ½  / Over & Under at 47 ½
Time:  Saturday, September 22, 1:00 pm (EST) FOX, NFL Red Zone
This week is no different, the two teams will be facing off in what will be one not to miss at all. The great thing about these two teams is that they are so evenly matched that the previous meetings usually ended up with just one possession being the difference maker. Looking back at the rivalry, there has been some intense games in which the clock was the only one that could decide the game's fate. This again will occur and this will be a battle to check out, even if you're not always tuned into this section of the collegiate football system.
The LSU running game is one of the best in the country, and if Auburn wants a chance to win, they are going to have to isolate it. The backfield is stacked, with names like Jeremy Hill, Terrence Magee, and Jeremy Hill all taking turns back there. Auburn will have to contain them and then match up well in the deep field to ensure that they are not getting scored on in the air. Meanwhile, LSU's defense is going to have their hands full with Auburns own offensive weapons, they play like a machine, one unit and can easily topple teams that don't pay attention.
The Match Up:
Look out for Nick Marshall making his first road game here, and it will be a tough one overall. The biggest thing to understand here is that he's going to have to throw perfectly, and not turn over, get an interception or cause any issue. If the Tigers want to end this one early, they are going to have to pass perfectly, defend the ball, and not turn anything over. One turn over and this game will be over, it's that heated. The odds makers and analysts aren't seeing the game the same way, Auburn is a huge underdog here, and LSU is much stronger. This sort of story can easily be a tough one, one that is just too hard to pass up going with the strong side. It's for that reason that we're going with LSU at – 17 ½ , but it's not easy.
The Edge:
Our pick is LSU at 7 ½ .
SportsCashSystem.com Prediction: LSU at 7 ½
More info about the #1 rated http://www.SportsCashSystem.com/ :
Sports Cash System is known as one of the best year round sports systems available today. For those bettors who think "systems can't work" , you will be shocked by the constant results Sports Cash System has been producing for its members, 4 years running. 
While other handicappers may try to charge you $50, $100 or more per day for picks, Tommy Krieg has stuck with his one flat rate for all of his picks, every month. You will get a unique and secure login and password to his Sports Cash System members area and get everything you need to profit month after month.
Tommy Krieg's #1 goal is to keep his players in the profit zone every month. Sports Cash System is truly one of a kind.  Watch the FREE video preview of how the system works by clicking here. 
Watch the video explaining the system below: