Gambling911.com has your Giants vs. Mets series betting pick and the current lines for Thursday evening.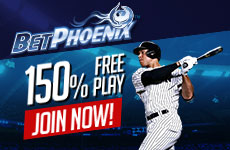 San Francisco has a record of 34-26.  New York has a record of 31-29.
The Giants are listed at +110, Mets -120 and the total at  7.5.
PITCHING MATCHUP: Giants RH Tim Lincecum (6-3, 3.29 ERA) vs. Mets LH Jonathon Niese (3-6, 4.43)
Lincecum improved to 5-1 in his last seven trips to the mound despite yielding four earned runs in his third straight start.  He is 6-1 mark with a 2.88 ERA.
Niese suffered his fourth straight loss on Friday after allowing three runs on six hits.  He is 1-3 career mark versus San Francisco despite posting a 2.98 ERA.
NATIONAL LEAGUE

06/11/2015

901

SAN DIEGO PADRES

A CASHNER -R

-104

o7-125

+1½-230

09:13:00

902

ATLANTA BRAVES

J TEHERAN -R

-106

u7+105

-1½+190

06/11/2015

903

COLORADO ROCKIES

C RUSIN -L

+134

o9EV

+1½-165

16:13:00

904

MIAMI MARLINS

D PHELPS -R

-146

u9-120

-1½+145

06/11/2015

905

SAN FRANCISCO GIANTS

T LINCECUM -R

+107

o7½-105

+1½-216

16:13:00

906

NEW YORK METS

J NIESE -L

-117

u7½-115

-1½+176

06/11/2015

907

CINCINNATI REDS

M LORENZEN -R

+131

o8EV

+1½-171

17:08:00

908

CHICAGO CUBS

T WADA -L

-142

u8-120

-1½+151

06/11/2015

909

WASHINGTON NATIONALS

T ROARK -R

-117

o8½-115

-1½+146

17:13:00

910

MILWAUKEE BREWERS

M GARZA -R

+107

u8½-105

+1½-166

AMERICAN LEAGUE

06/11/2015

911

SEATTLE MARINERS

J HAPP -L

-105

o8½-125

+1½-225

09:13:00

912

CLEVELAND INDIANS

S MARCUM -R

-105

u8½+105

-1½+185

06/11/2015

913

TEXAS RANGERS

A GONZALEZ -R

+154

o7½-110

+1½-150

12:38:00

914

OAKLAND ATHLETICS

S KAZMIR -L

-172

u7½-110

-1½+130

06/11/2015

915

BOSTON RED SOX

W MILEY -L

-102

o8½-120

+1½-208

16:08:00

916

BALTIMORE ORIOLES

C TILLMAN -R

-108

u8½EV

-1½+173

06/11/2015

917

LOS ANGELES ANGELS

G RICHARDS -R

-108

o7-115

-1½+158

16:13:00

918

TAMPA BAY RAYS

A COLOME -R

-102

u7-105

+1½-178

06/11/2015

941

AWAY RUNS

 

-105

 
 

09:10:00

942

HOME RUNS

 

-115

 
 

06/11/2015

943

OVER RUNS

 
 

o74½-110

 

09:10:00

944

UNDER RUNS

 
 

u74½-110

 
- Dan Shapiro, Gambling911.com