Romney Flip Flops on 10K Bet
Published on:
Dec/11/2011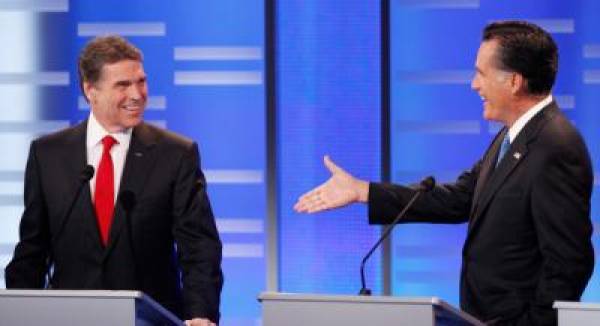 US Presidential candidate Mitt Romney stirred up controversy Saturday evening during a nationally televised GOP debate by offering to bet fellow candidate Rick Perry $10,000 over his assertion that the former Massachusetts Governor had broadly supported requiring individuals to have health insurance.
"I'll bet you 10,000 bucks," Romney said, denying Perry's claims.
Perry replied, "I'm not in the betting business."
By late Sunday, Romney tried to laugh off the bet.
Most of the controversy revolved around Romney seemingly being "out of touch" with the average American, who can't even fathom throwing away $10,000 on a wager.  But this goes much deeper, as Gambling911.com reported earlier in the day.
The Mormon Church does not allow gambling.  In fact, the Mormon stronghold of Utah does not even have a state lottery. 

The Mormon website noted:
"Gambling is motivated by a desire to get something for nothing. This desire is spiritually destructive. It leads participants away from the Savior's teachings of love and service and toward the selfishness of the adversary. It undermines the virtues of work and thrift and the desire to give honest effort in all we do."
When a second reporter tried to follow up by asking whether it was the largest bet he had ever made, Romney chuckled, "That's all I've got."
The mainstream press began questioning whether Romney's offer to bet Perry violated the church doctrine.  The Washington Post referred to the Mormon website Sunday afternoon. 
Elizabeth Tenety wrote:
Romney's bet kicked off a Twitter meme and questions about why he would publicly violate a known tenet of his faith.
- Jagajeet Chiba, Gambling911.com