Will Griffiths Appointed President of Doyles Room
Published on:
Jan/07/2010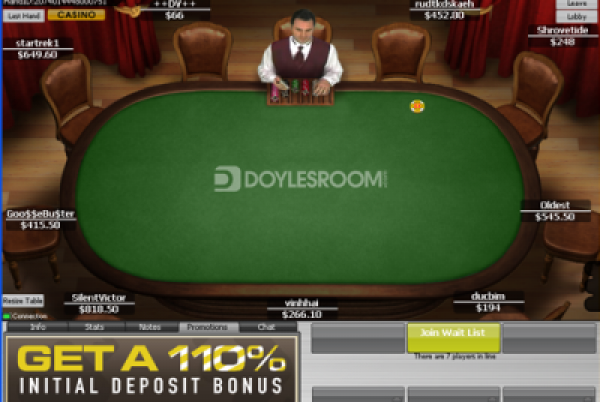 Global Marketing Director moves up the ranks to manage operations of DoylesRoom.com and DoylesCasino.com in 2010 and beyond
Las Vegas, Nevada - January 5, 2010 - The driving force behind DoylesRoom.com's refreshed brand and young new image has been given the keys to the company. Will Griffiths, who has headed up Global Marketing for the two brands since April 2009, has been appointed President of both Doylesroom.com and DoylesCasino.com. Griffiths will be responsible for the day-to-day management of the online poker and casino sites, two of the fastest growing destinations in gaming.

"In 2009, Will has done some outstanding things for the Brunson brand," said Doyle Brunson, the world's biggest living poker legend. DoylesRoom.com is the only poker site he endorses. "He's built a great team, he's helped me develop The Brunson 10, and he's been a big force in upping the ante by giving online poker players everything they expect out of a poker site. I know that having him in the driver's seat will mean some really great stuff in 2010."
Griffiths is highly regarded in the poker and gaming industries for solving crucial challenges, identifying untapped potential for expansion and revitalizing brands. Over the last decade, Griffiths has grown several top brands for a number of international poker, casino and global wagering organizations.

Before heading up marketing for DoylesRoom.com, Griffiths was the Chief Marketing Officer for Absolute Poker. When its parent company bought UltimateBet in 2006, Griffiths was tasked with overseeing marketing for two separate online poker sites and he is widely credited in the industry with successfully shaping both sites into the distinctive brands they are today.
Commenting on his appointment, Griffiths stated: "We've done some great work in 2009 that players all over the globe have really responded positively to and I'm really keen to continue that role in a new capacity for DoylesRoom.com and DoylesCasino.com."
For more information on DoylesRoom and DoylesCasino, visit www.DoylesRoom.com and www.DoylesCasino.com.
About DoylesRoom.com:
Online since 2004, DoylesRoom (www.DoylesRoom.com) is the only online poker site to proudly bear the legendary Doyle Brunson name. The newest addition to the Cake Poker Network, DoylesRoom offers its players access to unequaled poker promotions, fast action, and countless opportunities to play with Doyle Brunson and other legends of the game. Poker players from North America and around the world can compete for the biggest stakes on the web or sharpen their poker skills while playing Texas Hold'em and other popular games for free. With free poker software, lessons, tournaments, nonstop Sit-and-Go tournaments and ring games available at all limits, Doylesroom.com is the preeminent poker destination for real live game play-online or anywhere. 

About Doylesroom.com:
DoylesCasino.com is one of the most trusted and entertaining online casino sites. The online casino, which features the best slot, progressive jackpot and table games, welcomes players from around the world, including gaming fans from the United States and the European Union. Award-winning 24/7 customer support, secure payment methods, fast cashouts and leading-edge software powered by Realtime Gaming make DoylesCasino.com the foremost casino destination for those who want to bring Vegas home.