UltimateBet's 10th Anniversary Continues at the 2009 WSOP
Published on:
Jun/03/2009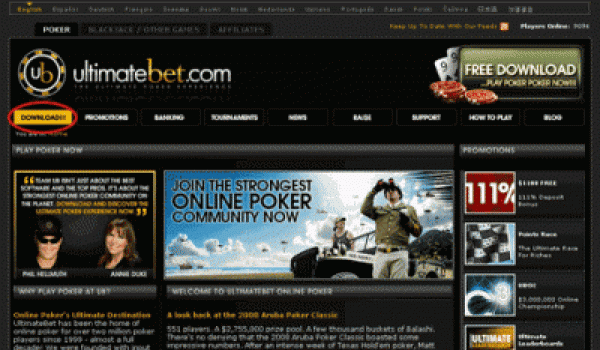 2009 sees UltimateBet("UB") notch up a solid ten years in the competitive online poker industry, and the leading online poker site's 10th Anniversary celebrations are set to continue in gladiatorial style this month at the annual World Series of Poker("WSOP")* with a monumental extra $10 Million to be won in the WSOP* Main Event.
"Nobody throws a birthday party quite like UltimateBet," said UltimateBet Pro Player Phil Hellmuth. "And this is a massive one. There's an extra ten million bucks on the line here in Vegas-that's one million for every year UB's been dealing cards-and some unbelievable promos set to get underway. It's not too late to join me in Vegas for the party of the decade and the chance to win more money than you could spend in ten lifetimes so go to UB to grab your seat."
Remaining true to its word, UltimateBet has unveiled its latest spectacular online promotion, "From a Dime to a $10 Million Dream", in which players can win their way to the World Series Of Poker ("WSOP") for a tiny ten cent investment; battle your way to the top and become the 2009 WSOP* champ to snag an extraordinary and exclusive 10 Year sponsorship deal with UltimateBet worth an epic $10 Million!
If you think you're skilled enough to battle it out to join the ranks of 11-time WSOP*bracelet winner Phil "the Emperor" Hellmuth, step up to the challenge and register with UltimateBet in Las Vegas now. It's easy to be part of Team UB's quest for WSOP* fame. Wear UB gear throughout your Final Table appearance in the WSOP*, and UB will give you a mammoth $10 Million bonus if you conquer the Main Event.
Players who have the courage can join Hellmuth's invasion of the world's biggest poker arena. Sign up now by following four easy steps:
            Go to the Bellagio Hotel daily between 11:00am-1:00pm and 3:00pm-6:00pm
            Use the house phone near the Hotel Guest Elevators, ask the operator to put you through to "Phil Hellmuth"
            Wait near the entrance to the Guest Elevators - one of UB's friendly staff members will come to collect you
            Fill in and sign a registration form, available only in UltimateBet's hospitality suite at the Bellagio
As part of the real deal, pick up a swag bag filled with UltimateBet 10th Anniversary T-shirts, flexi-fit peaked cap, poker cards, padded seat cushion, a card protector, and access to the invitation-only UltimateBet Party. The A-list event is  on June 29th, 9pm-3am, at the infamous Studio 54 located at the MGM Grand Hotel, where you will mingle with your fellow UB Team mates, plus share a drink with  celebrated names of the game and UB Pro players Phil Hellmuth, Annie Duke, Liv Boeree, Tiffany Michelle, Michael Binger, and Matt Graham to name a few.
On the night, the man of the moment, Phil Hellmuth, will be giving away an Aruba Poker Classic (October 3rd- 10th) prize package valued at $8500, and including entry for two to his exclusive VIP Party in Aruba.
So, what are you waiting for? Get your act together and head on down to the Bellagio to register. Don't miss this unique opportunity to join UltimateBet, one of the most enduring names in the online poker business. Be part of UB's history-making 10th Anniversary festivities, as well as Phil Hellmuth's 20th Anniversary of his first WSOP* bracelet win.
And if you haven't yet paid your way to the WSOP* $10,000 buy-in Main Event, UltimateBet is gearing up to hand out at least 50 Main Event seats in the World Series of Poker ("WSOP") *50 Package Satellite, a $530 buy-in event scheduled for June 21st at 17:30. Lock it in your calendar now.
A full run down on UltimateBet's 10th Anniversary 2009 Series, the $10 Million sponsorship deal, and WSOP* STEP Tournaments and Satellites can be found at UltimateBet.com.