UltimateBet's 10th Anniversary Celebration
Published on:
Aug/06/2009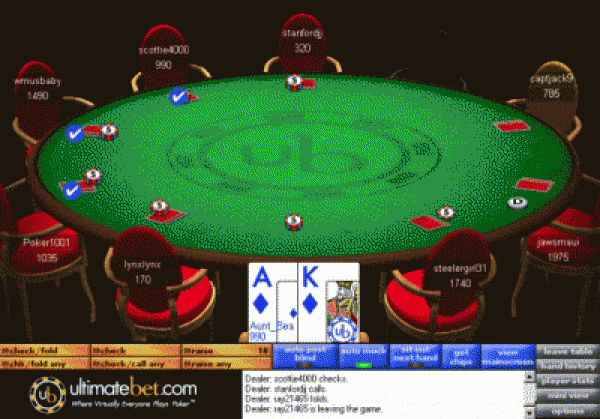 This October at the Aruba Poker Classic, UltimateBet ("UB") is tossing a cool $10 Million on the table at its annual marquee land-based poker tournament. UB is celebrating its 10th Anniversary in magical style by offering the $10 Million cash bonanza to any player who qualifies online for the Aruba Poker Classic all the way from a 10cent Step 1 tournament, and then goes on to conquer  the Aruba $5,500 buy-in Main Event.
There's some serious cash at stake here. From a dime to a $10 Million dream - that's the challenge at hand here, and the effort could be worth every penny, should you win your way to Aruba through UltimateBet's Step tournaments by starting at STEP 1.  A little piece of poker paradise awaits, and while you indulge your sun-seeking body on arguably one of the world's best beaches , contemplate just what it will mean to pocket a magnificent eight-figure payday at the poker table, should you reign victorious as the 2009 Aruba Poker Champion come  tournament's end on October 10th.
Not only can a tiny ten cent investment earn you a tidy $8,500 Aruba Poker Classic prize package, including a $5,500 Main Event buy-in and $3,000 for travel and accommodation, but it can also mean the difference between banking a superb $1 Million* Main Event check, and  this year's 10th Anniversary mega $10 Million bonus.
 The 2009 Aruba Poker Classic is a week-long poker experience, featuring a multi-million-dollar tournament, memorable parties and plenty of occasions to mingle with some of the world's best known Poker Pros in the business. Make this a must-not-miss event on your poker calendar, and you could be on the road to a new realm of poker riches worth an extra $10 million. What could be sweeter than that for a 10th Anniversary present?
With nine weeks left to qualify, there's still time to prove that you have what it takes to become poker's next big multi-millionaire. No other poker tournament stacks up to the 8th annual Aruba Poker Classic at the stunning Radisson Aruba Resort, Casino & Spa, from October 3rd to the 10th. Check out UltimateBet's STEP tournaments from as little as 10 cents, and you could be partying it up soon with the tightest online poker community on the planet.
Register now at the Aruba Poker Classic Website to receive regular updates, and visit UltimateBet.com for full details of the many ways you can qualify for the 2009 Aruba Poker Classic.