UBOC6 Day 14 Recap: NLH Turbo with Rebuys $100K GTD
Published on:
Jan/31/2011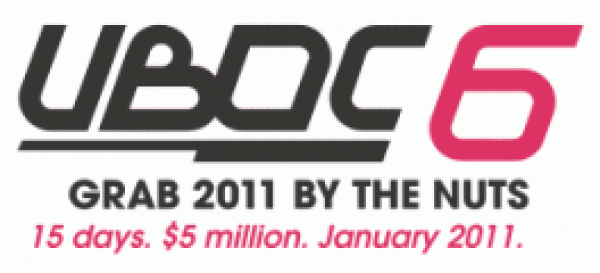 UB'S Online Poker Championship Series, which guarantees over $5 Million in tournament money and competition prizes, continued yesterday afternoon with Event #27 of the UBOC6 tournament schedule's 29 guaranteed events.
289 Online poker players showed up for UB's $100+9 buy-in NLH Turbo Unlimited Rebuys +2 Add ons, hosted Friend of UB's Mark "P0KER H0" Kroon, which kicked off at 16:00 ET yesterday, offering a prize pool of $100,000.  A number of Team UB Pros turned out for the Saturday afternoon $100K GTD event, including host P0KER H0 (83rd), ERIC BALDWIN (217th) BRYAN_DEVO (148th) and BRANDONCANTU, who was the highest placed of them, finishing in 16th place to cash $850.
The Turbo format delivered one of the quickest results of the UBOC series, with the final hand coming a mere three and a quarter hours after the first cards were dealt. At around 19:15 ET, there were only two players left to battle it out for first and second places, and the remaining prize money. A deal was discussed between RALNKAHN and GOOD2FU, but they decided to play for it instead. A short time later, it wasGOOD2FU, who turned out to have the winning hand with his As-Jd. The board showed Jc-Ks-Ac on the Flop, the Js on the Turn, and the 6c on the River, giving GOOD2FU a Full House versus RALNKAHN's Two Pair, the Kh-3h in his hand. GOOD2FU pocketed the first place prize of $26,000.
BOC6 #27 NLH Unlimited Rebuys
Host: P0KER H0
Buy-in: $100+9
Prize Pool: $100,000
Entrants: 289 (282 Rebuys/404 Add ons
1. GOOD2FU ($26,000)
2. RALNKAHN ($15,500)
3. JDPC27 ($11,000)
4. CFIELDER19 ($8,000)

Currently running at UB.com is the UBOC6 Championship Monster Stack NLH $1 Million GTD, a $1000+50 buy-in event.  At the close of registration, 1,036 players had chosen to test their No Limit Hold 'em skills at the felt for a shot at a share of the $1,036,000 prize pool. While it's still hours away from an outcome, what we do know is that the first place payout will be a very sexy $231K-plus.
 Low limit players are also being well looked after in the corresponding $50+5 buy-in $50K GTD Mini-UBOC Championship Monster Stack NLH, where 1,664 entrants are vying for a piece of the $83,200 prize pool.
Follow UB's Live Coverage here http://blog.ub.com/category/online-championship/
Join us for real times updates over on Twitter http://twitter.com/ub (UBOC will be referenced with #UBOC)