UB.com may not Honor Payouts for Wednesday Action from US Players
Published on:
Apr/20/2011
Gambling911.com has learned that a number of cash players have elected to ignore a notice clearly posted on the UB.com player platform effective Wednesday that advises: "We have elected to suspend real money activity for players based in the US due to legal developments".
While the software continues to allow players from the US to enter and participate in real cash games, this does not necessarily mean that UB.com will honor payouts to such individuals. 
We understand that some customers have chosen to interpret this message to mean that UB.com is simply unable to pay out US players at this time. 
Gambling911.com is urging its readers to err on the side of caution and await further word from UB.com Management, which is currently in discussions with their legal team. 
Please be reminded that clearly posted notices and rules/policies may take precedence over one's ability to access software or a player platform, including glitches and/or a site's ineffectiveness in blocking certain players.  This is the stance that the Kahnawake Commission (which licenses UB.com) and other licensing agencies are likely to take should UB.com elect not to honor payouts for Wednesday action from US players.
Until this notice stops appearing or until further clarification is made, those entering the real cash games are doing so at their own risk.
The notice appears below.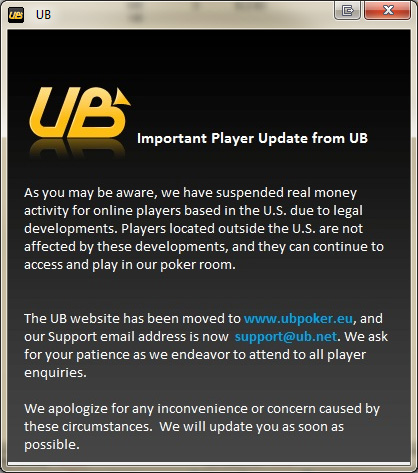 Follow breaking headlines around the clock at Gambling911.com Twitter Here