Third Year of Punta Cana Poker Classic Improved With the Flop: No Dealer Buttons
Published on:
Oct/23/2012
From no dealer buttons to great dealers and fantastic rulings made by Staff.

The third year of the Punta Cana Poker Classic improved with the flop, yet we have to see the turn and the river.
It all happened in 2009, someone said "Hey, let's do a poker tourney in the Dominican Republic" one year later the cards were in the air.  In 2010, the Hard Rock Hotel & Casino Punta Cana, hosted the first ever Punta Cana Poker Classic and just a few days ago the third annual tournament ended.  It's been a great ride, in all perspectives (players, staff, and local people) however, it's not been perfect, but we're doing everything we can to make it the perfect event from all angles.  We want to offer a "Must Attend' poker festival for your poker calendar.
We've found a gem! A Poker tournament held at a 5-Star All-Inclusive Resort in the heart of the Caribbean. Now there's no looking back! Everyone loves the Punta Cana Poker Classic but let's look back one last time.
Scroll Down For More...
No Dealer Buttons: 2010. The first event was a test drive and it became clear that a lot of improvements had to be made for upcoming events.  This was a $100K GTD No Limit Hold'em Event, held in the Poker Room area in the Casino. The Venue was out of this world, a 5 star resort with an incredible Sports Book and Casino.  We used the local staff and their kits – tables, dealers and cards. Just days ago after the 2012 event ended, I was told a funny story: "Can you believe in 2010 we had not dealer buttons before the tourney started" Keith said. I laughed and asked, "So what did we do?  "We used some old, like real old non-value casino chips and we stuck the word Dealer to them" he replied! (You know poker players can be very creative.) And so the show continued with these one-of-a-kind dealer buttons exceeding turnout expectations.  The guarantee jumped from $100k to over $250K featuring big names like Doyle Brunson and Eli Elezra in the inaugural event. Players had a great poker experience and we discovered the potential of this "diamond in the rough" - we just needed to cut and polish it.
Scroll Down For More..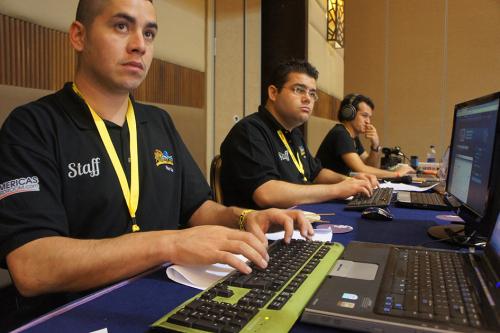 Great Dealers: 2011. For this event we made some serious changes.  Firstly, we decided to boost the guarantee to $500,000, and used an exclusive elite team of poker people. Bob Dunning became the TD and hundreds of dealers were brought in from all over the USA and Europe to Punta Cana. They are the best of the best, no doubt. You know it's like substituting the NFL replacement referees for the real McCoy. We also used our own chips and dealer buttons! ; ). The tournament ran smoothly but once again the diamond needed cleaning.  Staff soon learned that checking - in and out over 415 players in one day was no easy feat!
Great rulings by Staff: 2012. The diamond now looks better than ever! We've put together an incredible event at an amazing venue, a juicy guaranteed prize pool and an elite floor powered by poker people, us, the staff. We are poker players too, and just like serious poker players we used our notes to deliver an amazing event.  Management learned from past events and we fixed the leaks. Both players and guests had a great experience from the time they checked in and were already talking about next year's event as they checked out.  Once again the guaranteed prize pool surpassed the original $500K mark and hundreds of players from all around the globe enjoyed the unique Punta Cana Poker Classic experience.
It's been a great journey at a great location. The Punta Cana Poker Classic is becoming a World Class event, attracting over 985 players from over 25 countries over the past three years. Now looking forward to its fourth year there's no looking back for this Poker tourney!  Stay tuned for the upcoming event.
- Crazy Julius, Gambling911.com Special Contributor