Revealed: Lock Poker Puts Its Pros Up In French Castle
Published on:
Oct/06/2011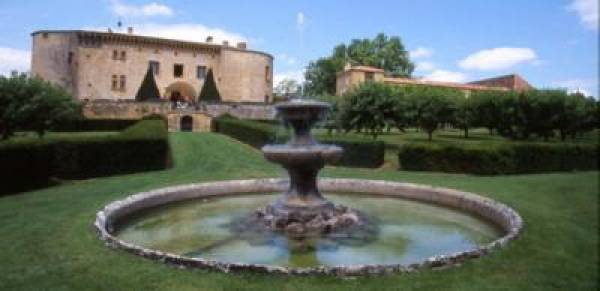 Lock Poker pros from throughout Europe and North America had something to be excited about this week as they were treated to exclusive use of a centuries old French castle just outside of Lyon.
"There are going to be many more of these events upcoming," Lock CEO Jennifer Larson told the nearly 50 guests in attendance.  "We are all a family and you are all going to get a taste of the Lock treatment."
The Gambling911.com crew was also invited to stay at the fabulous Chateau de Bagnols castle. 
Château de Bagnols is the finest five-star deluxe château hotel in France and is regarded by many as the finest vineyard chateau hotel in the world. Discovered by Lady Hamlyn in 1987 in a derelict state, she painstakingly restored the château with much energy and vision, to its former glory, revealing Renaissance wall and ceiling paintings created during the château's finest period when nearby Lyon was one of Europe's great Renaissance cities.
Experience Lock Poker for Yourself Here - Check Out the Lock Casino Here
Dating from the 13th century, the chateau features impressive towers, the original dry moat, honey-coloured stone known as pierres dorées and a dramatic entrance across a drawbridge. The Château de Bagnols is one of France's major historic monuments as well as a unique luxury hotel with 21 of the most superb rooms and suites in France.
Château de Bagnols is set among vineyards, forests and green hills in the heart of the beautiful Beaujolais countryside in south-east France, just 17 miles from Lyon which has an international airport. A train from Paris or Geneva takes only two hours and the ski slopes of the Alps are a 90-minute drive away.
Over and over again, we heard what an amazing experience each of the poker pros in attendance had over these past three days.
Agenda for the event:
Monday, October 3rd
4pm-6pm                             Check-in, welcome champagne aperitif and canapes on Lavender Path
8pm-3am                             Dinner in the Winery / dress code: Semi-Formal / menu: Carpe Diem / wine tasting: Discovery of the French Vineyards / entertainment: String Quartet followed by DJ
Tuesday, October 4th
7:30am-10:30am               Breakfast
11pm-1pm                           Archery tournament
1pm-3pm                             Lunch in the Salon Ombrage (weather permitting) otherwise Salle Des Gardes
6pm-8pm                             Hot Air Ballon Rides (sunset is forecasted at 7:16pm)
8pm-10pm                           Dinner in the Winery / dress code: Casual / menu: buffet with Pig Roast / Wine: Terroir de Bourgogne / entertainment: DJ
10:30pm-3am                     Poker Tournament and DJ in the Winery
Wednesday, October 5th
7:30am-10:30am               Breakfast
11am-2pm                           Horse Carriage, including picnic lunch
2pm-6pm                             Wine Tour
7pm-9pm                             Dinner in the Salle des Gardes / dress code: Casual / menu: Epicurean / wine: Terroir du Beaujolais
9pm-3am                             Party in the Winery
The hot air balloon rides took place Wednesday morning due to high winds Tuesday evening.
- Chris Costigan, Gambling911.com Publisher