Punta Cana Poker Classic 2010 Kicks Off
Published on:
Nov/11/2010
At shortly after 4 pm local time Thursday afternoon, the Punta Cana Poker Classic 2010 got started with one lucky individual out of just over 200 vying for nearly $70,000 in cash (first place prize).  Over $200,000 in prize money has been guaranteed for this $1000 buy-in.
The setting itself is what makes this premier poker tournament most amazing.  The Punta Cana Hard Rock Hotel and Casino Resort (formerly the Moon Palace Resort) is an expansive 1950 room all-inclusive property with several pools and world-class restaurants.  And "all-inclusive" in this case does not mean "cheap booze and limited food items".  The Hard Rock Hotel and Casino Resort features top shelf alcohol, 24-hour room service, fine dining establishments, free phone service to the United States and most other countries (except Hawaii and Puerto Rico), fully equipped fitness center, all of which are absolutely FREE.  The spa services and retail items are the only things you will be paying for here.
The best part of all:  Rooms range from $213 to $250 per night.  They feature a Jacuzzi in the center of the room, massive bathrooms and balconies. 
The only complain perhaps – You'll be doing a lot of walking. 
DoylesRoom.com General Manager William Griffiths speaks to the crowd during an opening night reception
 
"I've never seen a resort like this," poker icon Doyle Brunson told Gambling911.com.  And Brunson has certainly traveled the world in his lifetime.  He is in attendance with four of the Brunson 10 (Team Brunson players) and 25 other players including 4 online qualifiers.
Qualifiers were also in attendance from other online poker rooms including True Poker, Bookmaker.com, Diamond Sports International (BetDSI Poker), Bodog, and BetUS.com.
Others in attendance included the legendary poker pro and casino executive Mike Caro. In 1978 he contributed 50 statistical tables to Doyle Brunson's Super/System and wrote that book's chapter on draw poker.
William Griffiths, General Manager for the DoylesRoom.com website, told Gambling911.com Thursday "I am totally impressed with the tournament.  For the first year, getting over 210 pre-registered (there were also late registrants expected as of press time).  People from Costa Rica, Mexico, Sweden, France, America, Finland.  There is an airport in Punta Cana with access from Europe, the US and Costa Rica (where many of the online poker operators are based). 
There was actually a rather large contingency of players from Sweden.
"The North American Poker Tour is running at the same time as this event, which makes the turnout here even more amazing."
Griffiths added:  "You couldn't ask for a better setting.  The resort is awesome.  Beautiful weather, the restaurants."
Punta Cana fills a void left after the Aruba Classic ceased to exist this year.  Aruba, unlike the Dominican Republic, tends to be more expensive, difficult to get to and is not all-inclusive. 
Griffiths and Brunson both expect DoyleRoom.com to be title sponsors next year.
"The concept is to make this event much bigger in the future.  We would likely run two tournaments next year, a $5500 buy-in and a $1000 tournament," he disclosed.
The resort, which is currently operating at just 18 percent capacity during the month of November, is in the process of increasing the number of rooms to 2700. 
Play commenced at 4 pm local time and the two announced rules:  "No smoking and no using the 'F' word".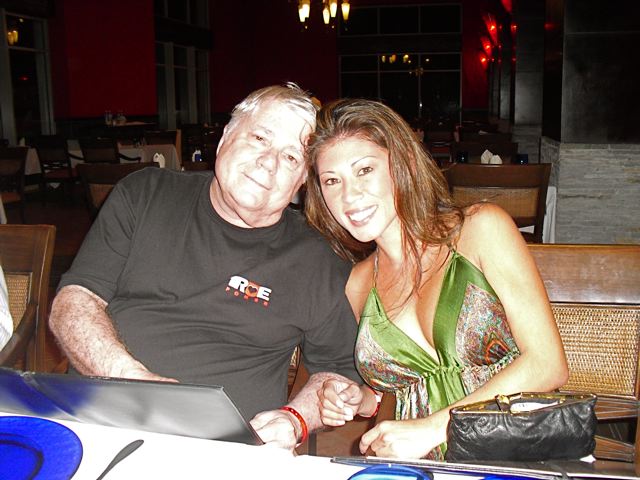 Jenny Woo enjoys dinner with Option Sports head Dick Carson
Sportsbook at the Hard Rock Hotel and Casino Resort in Punta Cana, Dominican Republic
Gambling911.com Publisher Chris Costigan with The Godfather of Poker Doyle Brunson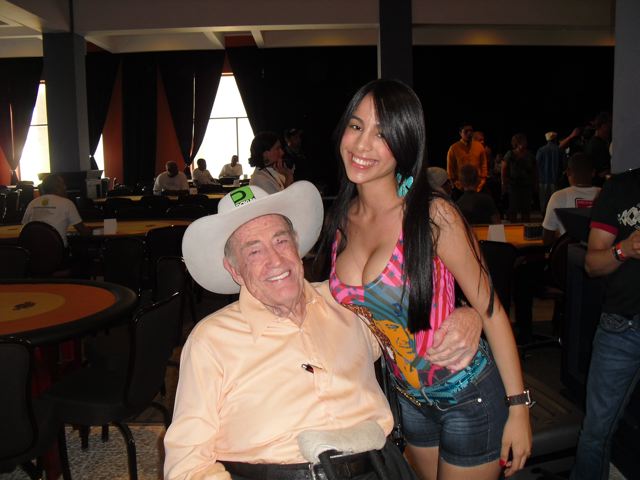 Doyle's new friend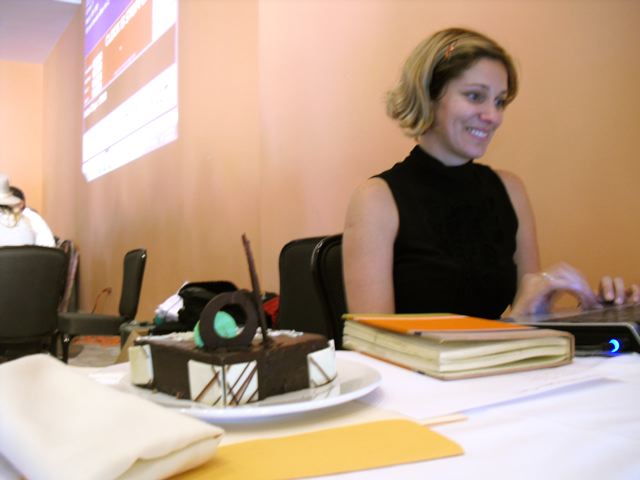 Ivonne Montrealegre Brath of True Poker - It's Your Birthday!
- Jenny Woo, Gambling911.com Senior International Correspondent