Phil Hui Mounts Wins Third Bracelet In $1,500 Pot-Limit Omaha
Published on:
Jun/24/2022
Phil Hui may not be a household name even among poker diehards, but his success is being affirmed at this year's World Series of Poker (WSOP).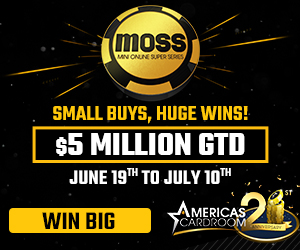 Hui has won his third bracelet courtesy of the Event #45: $1,500 Pot-Limit Omaha (8-Handed).
He mounted a comeback and is $311,782 richer as a result.
Here is how it went down courtesy of WSOP.com:
A key turning point was when both players got it in on a flop containing a jack and two sevens. Hui held three sevens and Tordjman held a flush draw and a wrap straight draw combination. The board runout only saw Hui fill up and Tordjman was left with a five to one chip deficit. A few hands later, Tordjman got in in preflop with king high and pair of tens in his hand while Hui had an ace high with a jack, eight, seven. The board ran out with an eight and a seven on it and Tordjman ended his impressive run in second place for $192,674.
Upcoming
Saturday 25
World Series of Poker
Event #48: Eight Game Mix 6-Handed Results
Event #47: SENIORS No-Limit Hold'em Championship - (Ends Sunday)
Event #49: $2,000 No-Limit Holdem (Ends Saturday)
Event #50: $250,000 Super High Roller No-Limit Hold'em (Ends Saturday)
Event #51: $400 COLOSSUS No-Limit Hold'em - $400 buy in  (Ends Monday)
Event #52: $2,500 Nine Game Mix 6-Handed (Ends Sunday)
Event #53: $5,000 Mixed No-Limit Hold'em; Pot-Limit Omaha (8-Handed) $5000 buy in (Ends Monday)
Sunday 26
World Series of Poker
Event #49: $2,000 No-Limit Holdem Results
Event #50: $250,000 Super High Roller No-Limit Hold'em Results
Event #47: SENIORS No-Limit Hold'em Championship - (Ends Sunday)
Event #51: $400 COLOSSUS No-Limit Hold'em - $400 buy in  (Ends Monday)
Event #52: $2,500 Nine Game Mix 6-Handed (Ends Sunday)
Event #53: $5,000 Mixed No-Limit Hold'em; Pot-Limit Omaha (8-Handed) $5000 buy in (Ends Monday)
Event #54: $500 SALUTE to Warriors - No-Limit Hold'em (Ends Tuesday)
Event #55: $1,000 TAG TEAM No-Limit Hold'em (Ends Tuesday)
Event #56: $50,000 Poker Players Championship 6-Handed (Ends Thursday)
- Ace King, Gambling911.com