Phil Hellmuth Clueless: Don't Listen To The Poker Brat
Published on:
Dec/02/2010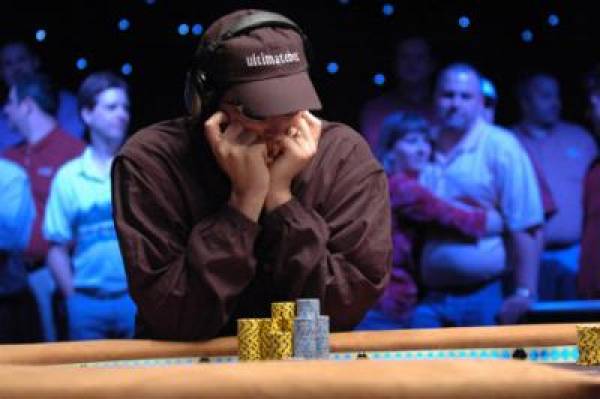 Just call Dustin "Dusty" Schmidt the anti-Phil Hellmuth.
At least that's what poker pro Schmidt is marketing himself as as he peddles his latest book, titled "Don't Listen to Phil Hellmuth: Correcting the 50 Worst Pieces of Poker Advice You've Ever Heard."
Say what?
A new book on poker strategy is based on the premise that top poker pro Phil Hellmuth doesn't know what he's talking about?
Hellmuth, the so-called "Poker Brat," has won 11 World Series of Poker championship gold bracelets in his storied career, the most of anyone ever.
He's one of the best poker players in the world, maybe the best.
And he doesn't know what he's talking about?
Just who the hell is Schmidt to say that about anybody, how many WSOP bracelets has he won?
(The same number as me--zero.)
So what is Schmidt's reasoning for writing such a book?
He told an interviewer: "I started thinking about all of these things you hear people say on TV and got an idea to do a book based on correcting misconceptions. We start each chapter with a misconception and move on to things loosely related to that. As we were going though the misconceptions we had, we realized that Phil Hellmuth dominated the list."
Oh, ok.
Let's check the record.
Hellmuth has earned $9,236,617 playing live tournament poker in his career, finishing in the money in dozens of WSOP and other tournaments.
Schmidt has earned $18,612 playing live tournament poker in his career, all of it coming from a 23rd-place finish in a six-handed, no-limit Texas hold 'em tournament at this year's WSOP.
And Schmidt is going to correct Hellmuth's misconceptions?
Yeah, right!
Schmidt, who previously authored "Treat Your Poker Like a Business," is a legitimate poker author, so it remains to be seen just how legit his latest tome will be.
Trashing one of the game's greatest players in your book title will get you publicity--we're writing about it--but will it get you legitimacy?
Somehow, telling the world that the WSOP's best-ever is really a bum who knows nothing, doesn't seem like the way to go about it.
(For more information about the new book, visit www.dustyschmidt.net.)
By Tom Somach
Gambling911.Staff Writer