The October Nine: 2012 World Series of Poker Main Event Final This Week
Published on:
Oct/27/2012
Excitement is in the air as the October Nine gets ready to take part in this week's World Series of Poker Final Table.
$8.5 million will be rewarded to the winner of this year's World Series of Poker Main Event.
The 2012 World Series of Poker Final Table kicks off Monday October 29 at 4:30 pm local time at the Rio in Las Vegas.
2012 World Series of Poker Main Event – Final Table Chip Counts
1.    Jesse Sylvia – 43,875,000

2.    Andras Koroknai – 29,375,000

3.    Greg Merson – 28,725,000

4.    Russell Thomas – 24,800,000

5.    Steven Gee – 16,860,000

6.    Michael Esposito – 16,260,000

7.    Robert Salaburu – 15,155,000

8.    Jacob Balsiger – 13,115,000

9.    Jeremy Ausmus – 9,805,000
Advertisement:  Play online poker for FREE or REAL CASH using your webcam or customized avatar at Camasino.com here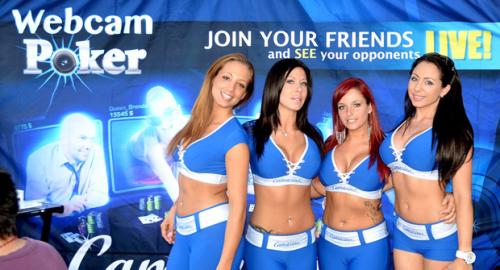 26-year-old Martha's Vineyard-raised Jesse Sylvia is one of the October Nine.  He is being coached by one of the best female poker players on the planet, Vanessa Selbst. 
"We played together a little bit on day 6, and we met there," said Selbst. "He is going into the final table with the chip lead, and I've had a number of times when I have had the chiplead going into the final table I have had good results based on that, so I think he was interested to hear my thoughts and work with me."
When asked by the WSOP what else helped him become a successful poker pro:
"Aside from the practice of just doing it, surrounding yourself with other people you respect and can learn from is critical.  I think the term is called 'collective of knowledge,' or something like that. 
"If people around you are learning and getting better at something and you are in the middle of it, how can you not get better, as well?  It's not like the cutting edge of mathematics where you almost have to have something special.  Poker is something where you can get a lot better just by having the right friends and support.  The best players in the world are just really good at balancing hand ranges and know how to exploit leaks in the other players' games. 
"And so being around people who are at the forefront of the game and soaking that all in, you eventually develop that same thought process."
On what his life's been like since making the Main Event final table, in July:
"The first week after it was all over, all I did was relax, because the time I spent out in Las Vegas had been so intense.  I tried to watch some poker videos to keep sharp when I got back, at sites like CardRunners and DeucesCracked.  But the first few weeks back home for me was a time to try and unwind and enjoy the moment."
Hartford, Connecticut's Russell Thomas' road to the October Nine hasn't been typical. The 24-year-old played just three events this summer and admits that, as primarily a cash game player, he hasn't spent much time practicing tournament play.
"It's going to be the most exciting day of my life," Thomas said of the Main Event final table. "It would just seem so crazy to possibly win the Main Event. I haven't spent the last few years playing tournaments and practicing tournaments, and somehow I just ended up making the final table."
Hungary's first representative in the World Series of Poker Final, Andras Koroknai, won the 2010 L.A. Poker Classic and the cash prize of $1,788,001.
The 30-year-old former computer engineering student discovered poker while at school, according to ESPN.com.  It was during his time there that, after a hard breakup with his girlfriend, he went on a fateful trip to Greece.
"In 2007, I went to Greece for a holiday and had a motorcycle accident," Koroknai told the sports news site. "I went to turn, slid with the bike and almost died. I got injured so much and had no chance to go out. I had to stay home, and that got me more interested in poker. I started to play more. During this period, one friend told me he was playing poker for real money … small money, but good money. In Hungary, it was a pretty good salary. It made me more interested in playing the game because I could make more than working for a computer company or something like that. It was a depressing time. I'd been injured in the accident, the girlfriend dumped me, so I didn't want to go out for a while. I started to play so hard, and that was the start."
These are the payouts…
2012 WSOP Main Event Final Table Payouts
1st — $8,531,853
2nd — $5,295,149
3rd — $3,799,073
4th — $2,851,537
5th — $2,155,313
6th — $1,640,902
7th — $1,258,040
8th — $971,360
9th — $754,798
- Ace King, Gambling911.com