Most Popular Poker News Stories of 2010
Published on:
Dec/29/2010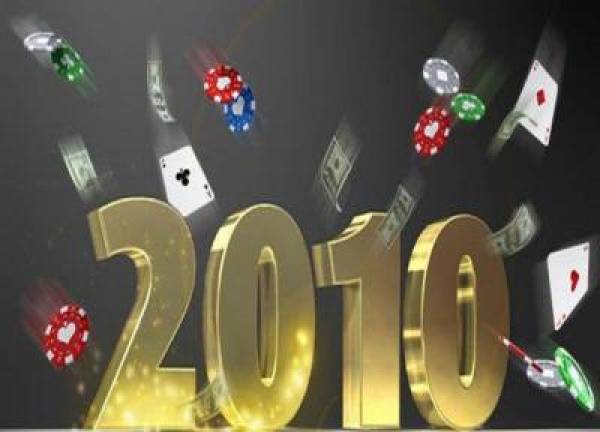 It's that time again folks when Gambling911.com looks back at the year's most popular poker-related news stories of 2010.  You may have come across other websites offering their own – sometimes subjective – rankings of the year's hottest stories.  Gambling911.com now brings you the most read poker stories of 2010.
*10 – The Infamous Berlin Poker Heist
Gambling911.com's coverage of this story received thousands of reads over a few week period.  First, the heist, which took place during the final hours of the EPT Berlin Poker Tour back in March, then came the search for suspects and ultimate arrests of several men.
Jagajeet Chiba led the coverage of the brazen Berlin Poker Heist, all of which was caught on tape and netted the bandits $1.1 million. 
"Make no mistake about it, the EPT Berlin Poker Tournament heist made the front page of all the major Berlin newspapers, not to mention a number of the British tabloids.  Most of the major New York City papers also covered the armed poker robbery," Chiba reported. 
"When it comes to crime reporting, Gambling911.com tends to be at its best," noted Payton O'Brien, Senior Editor of the website.  "We typically received thousands of reads for crime-related stories.  Tips often come to Gambling911 first."
Two other crime-related stories have made the top 10 most popular poker stories of 2010 in fact. 
*9 Harry Reid's Last Minute Online Poker Bill
Sure, Gambling911.com's coverage of Senate Majority Leader Harry Reid's attempt to pass a draft bill legalizing online poker in the United States was big news during the final weeks of 2010.  Some sites would have us believing this was the biggest most popular story of 2010.  In the whole scheme of things, it ranked right up there….in the bottom of the top 10.
"He wasn't successful and there was so much confusion nobody really knew what was going on," says O'Brien.  "When all was said and done, this story was about as hot as getting off to having sex with Halle Berry, then your alarm goes off and you realize it was only a wet dream."
*8 Negreanu Dukes It Out With Annie Duke
What's a top 10 poker news stories of 2010 without including controversial pro Daniel Negreanu?  Of course he made big news on the pages of Gambling911.com thanks to an all out war with his apparent nemesis Annie Duke. 
He called her a "F***ing Cunt" during an interview with a European poker news website, and Negreanu didn't exactly clarify that there was something lost in the translation.
Negreanu also made it clear to the reporter, he is absolutely not friends with Annie Duke. 
One Gambling911.com reader had this to offer:
"Negreanu's vulgar, disreprespectful, language toward Annie Duke is Highly Offensive. It will not be forgotten. I have lost all respectful for Negreanu. He has disgraced the poker community. He has disgraced pokerstars. Negreanu's has no class. I will boycott Pokerstars until he is removed representing it. Boycott anything involving Negreanu, as he is nothing but an arrogant, abusive, toilet mouth."
*7 – Phil Ivey's Lost Super Bowl Bet
One of the hottest stories to come out of Gambling911.com's extensive 2010 Super Bowl coverage was the $2 million bet placed by poker pro Phil Ivey.  It was one he ultimately ended up losing.
The bet in question was a money-line wager on Indianapolis at a Strip sports book, rumored to be the MGM Grand. 
This story enjoyed heavy readership that week on Gambling911.com, as do most stories involving Ivey, the most popular poker player on the live circuit (and Internet) today. 
*6 – Daniel Tzvetkoff Captured
Daniel Tzvetkoff is probably among the most hated men in the online poker industry as far as operators are concerned.  They accuse him of running off with millions of their funds after shutting down his processing company, Instabill. 
Needless-to-say, they were somewhat happy to hear he had been apprehended on US soil.
The raw complaint against Tzvetkoff could be found here.
Gambling911.com received tons of reads related to our Tzvetkoff coverage.  He would later agree to cooperate with US authorities in their investigation into online poker payment processors.  What a surprise!
*5 – Shannon Elizabeth-Gate
This story fell under the radar at most poker news sites – not Gambling911.com, where it was the 5th most read article of the year.
It seems the American Pie actress and successful celebrity poker player had been overcharging poker players during a tournament held at Shannon Elizabeth's home.
It all started as the result of a blog post done over the weekend by celebrity gossip blogger Perez Hilton. Apparently, a source had participated in a home game at Elizabeth's California home. The source made it seem as though the actress was acting as nothing more than a casino pit boss, ignoring her guests and only coming into the room when it was time to collect for time played or a rake. The blog post went on to accuse Elizabeth of essentially overcharging patrons. One of the more embarrassing examples was a $70 fee for the house from a $250 pot.
Interest in this story didn't wane after initial publication, far from it.  The article in question received even more substantial reads during subsequent weeks.
In the end, many in the poker community refuted the story first published on the Perez Hilton blog.
"This bogus story is a good a reason as any to run that picture. well done," commented one Gambling911.com reader in reference to the photo of Shannon Elizabeth accompanying the article in question. 
*4 – Doyle Brunson vs. Annette Obrestad
The Doyle Brunson vs. Annette Obrestad feud was super hot on the Gambling911.com website in 2010.  It all began when the much younger Obrestad suggested 76-year-old Doyle Brunson would be much easier to play against than many of today's high stakes online poker players.
She said in an ESPN interview:  "Online players process information so much faster and don't let their egos get in the way of becoming a better player. No disrespect to Doyle, but I'd rather play him."
Doyle actually found himself apologizing to Obrestad in a Twitter post.
"Must be a bad time of the month for Annette what's her name. By the way, I'm at Bobby's Room almost every day if she really wants to play."
He later tried to quell the controversy and Annette pretty much kept her mouth shut from that point forward. 
Gambling911.com readers, many of whom are Brunson loyalists, came to his defense.
"Annette is a cash game fish. Doyle would destroy her."
*3 2010 World Series of Poker Coverage
Gambling911.com's 2010 World Series of Poker coverage received the most reads of any other previous years.  There were plenty of side stories to go around:  Michael Mizrachi's tax woes coming into the final table and Tom "Durrrr" Dwan's millions of dollars in lost prop bets. 
*2 Phil Ivey's Net Worth
For anyone with aspirations of becoming a poker pro, the article that might encourage them just a little bit more was one involving Phil Ivey's net worth.  Not only was this among the most read poker stories on the Gambling911.com website in 2010, it ranks among the most read articles in the website's 10-year history.
"It was during the World Series of Poker when the colorful ring announcer, Bruce Buffer, suggested that Phil Ivey was worth $100 million," Ace King of Gambling911.com said.  "Buffer, at the time, came under strong criticism for publicly disclosing this supposed net worth, especially with the taxman reading."
This story continues to get massive reads leading into 2011, making it a candidate to become one of the Gambling911.com timeless classics. 
*1 Joran van der Sloot Accused of Murdering Girl During Latin American Poker Tour
No story was bigger that that involving murder suspect Joran van der Sloot, already a prime suspect in the 2005 disappearance of American High School grad Natalee Holloway.
"Gambling911.com covered the story from the poker angle," noted O'Brien.  "Van der Sloot was a known online poker player who used handles such as "AngryShark" among others, some of which seemed to allude to (Natalee) Holloway.  The only reason he was in Peru at the time of the murder was to attend the Latin American Poker Tour."
Gambling911.com helped to familiarize the world with the phrase "Law of the Donkey".
"We didn't come up with the term per se," O'Brien explains.  "We were just the first site covering this story to apply it to Joran and get topped ranked on Google as a result."
20,000 plus readers later, we're still there.
"There were just so many different variables involving this case.  All the ingredients were present for the ultimate crime story involving poker.  The fact that he was there following the Latin American Poker Tour made it all the more alluring.  Still, you weren't likely to read about Joran van der Sloot in many of the poker sites that covered the event, where fluff takes precedence over hard-line reporting, sad to say."
- Christopher Costigan, Gambling911.com Publisher