Just a week after declaring he had removed nearly 90% of this political posts from Twitter, poker pro Mike "The Mouth" Matusow was back at it this weekend.  SCROLL DOWN FOR MORE


Now accepting most forms of crypto-currencies
A staunch defender of U.S. President Donald J. Trump, Matusow expressed his disgust at CNN's extensive coverage of two women who have come forward claiming they slept with Trump back in 2006 shortly after his son Barron was born.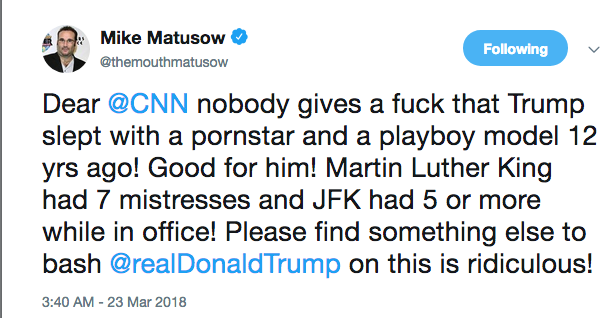 Matusow's followers can be pretty critical however.
"If nobody cares, then why are you upset?," one tweeted.
There was this: "The few million conservative god fearing "Christians" who for 8 years whispered Obama was a lothario might."
Another tweet: "Clinton's affairs were treated as pretty big news and here we have POTUS likely lying about them, the payment of hush money and charges of threats and coercion. All this on top of Access Hollywood tapes and many complaints of unwanted touching and groping. A lot to just ignore."
And this: "Really? I care a lot. Not in an angry way, but it's interesting. And a TON of actual conservatives probably really do care."
"Haha, Good for him for cheating on his wife you act like it's a badge of honor. Wouldn't expect anything less from you," tweeted another.
"Would you care if you found out Hilary Clinton had 5 guys on the side? Or you wouldn't say anything about it?," one follower asked.
"If really that was all it was about ...," another tweeted.
The CBS News magazine "60 Minutes" was set to air a "tell all" or "tell a lot" with that porn star who claims she slept with the U.S. President, Stormy Daniels  (her attorney claims more is coming).  The "60 Minutes" piece will come right off what should be a heavily watched Elite Eight game between number two seed Duke and number one seed Kansas.  Daniels, whose real name is Stephanie Gregory Clifford, could reveal more than an affair.  Her attorney, Michael Avenatti,  has gone on record that his client had been threatened, though he would not elaborate on whether it was Trump or someone in his orbit who made the threats or what they entailed. 
Avenatti also added to the suspense, tweeting an image of what looked like a CD or DVD, with the caption: "If a picture is worth a thousand words, how many words is this worth???? #60minutes #pleasedenyit #basta."
Not all of Matusow's followers disagreed with his sentiment.
One tweeted: "Spot on! Just another way to bash Trump, he's done and said some crazy shit but leave his personal life alone. Im pretty CNN said it was no ones business when Clinton was caught with Lewinsky!"
And another: "Amen mike. Exactly right. Middle America really really don't give a s..t."
But the support was few and far between.
Another detractor had this to offer Matusow: "Stick to poker Mike. I care what that asshole is alleged to have done and I'm no liberal, so you're wrong. Again. I don't care what MLK or JFK did, they were dead before I was born."
- Nagesh Rath, Gambling911.com
- Ace King, Gambling911.com