Lock Poker Pros Jenny Woo Interview Series: Stephen Devlin
Published on:
Jan/07/2011
Jenny Woo here again in continuation of bringing you another interview with one of the Lock Poker Pro Elites. Stephen Devlin is considered one of the UK's best online players and has continued making a name for himself in the online poker community. Read my interview with this talented guy and don't forget to check him out at LockPoker.com under the name StevieDevlin. 
JENNY: First off, how was your New Year's and how did you celebrate?
STEPHEN: It was actually a pretty quiet New Years this year. I did most of my partying over Christmas and was pretty much partied out when New Years rolled around. Just had a few drinks in my parents house.
JENNY: You've really made a name for yourself in the online world especially in Europe. Did you ever imagine when you first got started in the poker circuit that you would get to where you are today?
STEPHEN: Ha, not at all. When I first started playing it was more as a past time and for fun. I never thought I could do this for a living.
JENNY: Speaking of getting your start. Please tell out readers your earliest memory of the game whether it's was online or sitting around with friends.
STEPHEN: Me and my mates used to always play a weekly cash game in my parents house when I was 16 or 17. I used to always be dealers choice as Texas Hold'em wasn't as popular then. A lot of different gambling games with jokers and everything threw in.
JENNY: What about now? What's your most memorable game throughout the years of your pro career?
STEPHEN: Probably the final table I made at the Irish Winter Festival last year but ended badly losing a flip for a good stack 5 handed.
JENNY: You're one of the Elite Pros in the Lock Poker family. How has your experience been with the site? And when and how often are you on the site should our readers out there want to play against you?
STEPHEN: I try to play at least a few hours a day when I'm at home and obviously just whenever I can get a chance when I'm on the road. Lock has been great since the changeover to the merge network with lots of games running and lots of fish with plenty of cash.
JENNY: What was your family's initial reaction when you started playing poker on a serious level? And what is their reaction now after seeing how successful you've been in the sport?
STEPHEN: My family was actually really supportive about it and my father actually encouraged me when I told him I was considering giving up a good job to try my hand at poker fulltime. Basically told me most people don't get the chances in life to do something they love for a living and there will always be other jobs if it doesn't work out.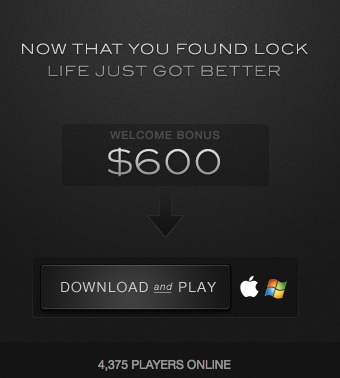 JENNY: You're mainly known as an online pro but how often are you playing live? And do you see yourself making a switch to playing more live versus online?
STEPHEN: Yeah, I try to travel to a few EPTs every year and play most of the major tournaments in the UK and Ireland. I can't really ever see me only playing live however as online is my bread and butter and I enjoy it too much.
JENNY: I'm assuming you've played in the WSOPE but have you entered in the WSOP in Vegas? If so, what games did you enter and how did you do? And will you be playing in the 2011 WSOP?
STEPHEN: Yeah I've played the WSOP main event the past 4 years but am yet to leave my mark there. I have a few minor cashes in some of the prelim events with a 20thas my best placed finished in a PLO / PLH event.
I will definitely be going back to Vegas in 2011 and as always rent out a house there for the duration of the series with a few friends. There are definitely worse ways to spend the summer.
JENNY: What's your game of choice?
STEPHEN: No Fold'em Hold'em.
JENNY: Are there any goals that you'd like to accomplish in the poker circuit?
STEPHEN: I'd definitely like to take down a major live tournament but who wouldn't.
JENNY: Is there a specific player or even players that you have yet had the chance to play but would like to?
STEPHEN: I have yet to play on the same table as Phil Ivey. It would be great to play against the best and see how I faired.
JENNY: What key advice can you give someone who's just getting their start in the poker world?
STEPHEN: Always play within your means and poker roll and just have fun.
JENNY: You mentioned to me that you would be heading out to Asia this week. What will you be doing out there? Also, what's in the forecast for "Allinstevie" in 2011 – online and live?
STEPHEN: Me and a few friends have rented a villa just off the beach in Koh Sumai. Every year we try to get away for the winter / spring for a month or two. I'm not a big fan of the cold weather here. Haha. I will probably do a little bit of grinding out there as well as some traveling and just relaxing.
As far as poker, will probably try to play an ept or 2 when I return then theres vegas in the summer. Online will just be more of the same, grinding out the cash games on lock poker.
- Jenny Woo, Gambling911.com Senior International Correspondent