Jenny Woo here to get 2011 off to a great start. First, I'd like to say Happy New Year! I hope all of you had a blast bringing in the New Year as much as I did.
I had the opportunity to sit down with Brett Jungblut who is just one of the Poker Pro Elite's with the Lock Poker family. Keep your eye on this guy as he's already had his way with most of the pros that we've grown to love. Find Brett by the user name BrettJungblut on LockPoker.com where he's playing daily and see if you have what it takes against this pro. Check back here to catch more interviews with the pros of Lock Poker. In the meantime, read my interview with Brett to see what he's been doing as well what he'll be doing in 2011.
JENNY: You're with the Lock Pro family as one of their elite. How has your relationship been with the site? 
Brett: I have been with Lock Poker for over a year now and my relationship with the site has been great.  It has been easy for me to integrate with Lock because their core values as a company are something that I truly believe in.
JENNY: How often are you online playing should our readers want to play against you?
BRETT: I play a lot online; you can find me daily playing on Lock.  I especially enjoy playing the super turbos on our site.  They do not last that long and allow for me to get a lot of volume in.  As far as your readers, this has always been my take on competition; 'To be the best, you have to beat the best!' and we have some of the best players in the World on our Elite Lock Pro team!  
JENNY: Your dad also has the love and talent in the poker circuit. Is that how you got your start? 
BRETT: Yes, my Dad has been playing cards since the 70's and has two second place finishes in WSOP events.  In a lot of ways I was destined to be a poker player; I was named after Brett Maverick from the 70's Western TV show, was born in Atlantic City, and even learned to count numbers using playing cards.  
JENNY: How young were you when you played your first non-pro game?
BRETT: I have pictures of me and my brother playing cards when we were like 6 and 7, we had a bunch of chips in front of us.....back then, his nickname was Chips Bo and mine was Big Bucks Brett!
JENNY: You were so close in finishing college and getting your degree. What was your reasoning in leaving school to pursue poker full time?
BRETT: This is true! I literally left school with one class short of graduating.  I had one professor who failed me in the one class I need for attendance reasons, even though I had a B or C in the class, this F had actually pulled me under a 2.0, which I had very well calculated out prior to the grade.  This put me on academic suspension for a year.  I decided to head out West and play poker for a year, but as you can see it has been about 10 years now.  I still plan on finishing up, and I will invite you to my graduation party!
JENNY: Tell our readers about Pro Poker School and what people out there can gain from the site?
BRETT: I started ProPokerSchool.com in 2004 as one of the first poker training sites available at the time.  I used to charge $250 a year for it, but as many other 'schools' started popping up and charging, I decided to make it 100% free! Now there are dozens of videos people can access that are very comparable to the videos on the other training sites, but ours are free!  Ultimately it is a great site for free resources from a guy who has been around the block a few times.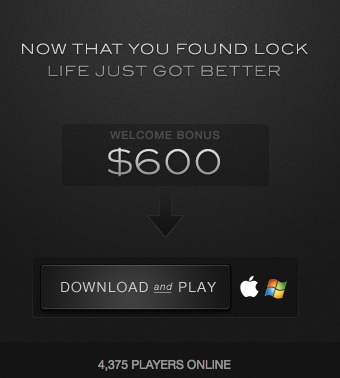 JENNY: That's awesome that ProPokerSchool.com is free. I just might need to become a member on the site to see if I have what it takes. Can you tell me how many members you have thus far? And what else the site offers along with the videos?  
BRETT: We have over 3500 registered members, ranging from absolute beginners to well known pros! Many of the articles I have done for Bluff Magazine can be found on the site as well.  Our forum has a positive and helpful atmosphere, as we are all there to improve our games.
JENNY: Seeing that you teach the skill of poker, what one key advice can you give someone who's just getting their start in the sport?
BRETT: The major thing I preach to new players is to not focus on the winning and losing at first because it is almost guaranteed you will lose at first. Instead, learn from the games you play and make the learning process as cheap as possible.  With online poker, you can now play games for pennies and tournaments for $1 or less.  Look at the money you are spending as an investment into your future game, and accelerate your learning curve as fast as possible by reading books and watching videos.  It took me 1 1/2 years to become a profitable player, and it was very rewarding when I was able to turn the corner from learning to earning.  That is why I made the motto of ProPokerSchool, 'Learn before you earn!'
JENNY: Where did you get the nickname Gank?
BRETT: My Sigma Chi brothers in college used to say I was 'ganking' the pot when we used to play poker, as I was very aggressive and 'gank' is a slang term for 'to steal'.  SO when I first started playing online in 1997 on Planet poker, I used that name.....it has stuck ever since!
JENNY: What is your game of choice?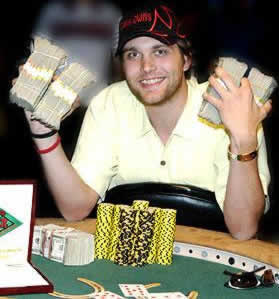 BRETT: Omaha Hi/Low I would say, I am a World Champion in that game!
JENNY: That you are! I can only imagine that your dad was very proud. What was his reaction and what did he say when you won in 2004?
BRETT: He was there for the whole final table, and is good friends with Miami John who I was playing heads up.  Miami is regarded as one of the best Omaha Hi/Low players too, so it was nice to have beaten a legend in the game heads up.  My dad was really proud. It was a great night!
JENNY: Would you say that you play more online than in live tourneys? Vice versa? Or both?
BRETT: I tend to play a lot online, probably about 80/20, but I never miss the WSOP.  I have 16 lifetime WSOP cashes and have cashed in at least one WSOP event every year since 2004.
JENNY: Are there any goals you'd like to accomplish in the poker circuit?
BRETT: Yes! I would like to win a major NL tournament.  I am known as a very strong mix game player, but NL being the last game I ever learned, and the most challenging for me. It would be a monkey off my back if I could snap off a big NL win. 
JENNY: Are there any players out there that you haven't played yet but would like to?
BRETT: Actually, I have played with just about everyone.  I knocked Johnny Chan out of the 10k PLO WSOP event, and he was drawing dead! One of my other favorite moments was a WSOP shootout event, where one player advances from each table.  My table had Doyle Brunson, Mike Matusow, Ted Forrest, and Thor Hansen, and I came out on top.  It was definitely a confidence booster!
JENNY: Well since we're on the subject of pro circuit players...tell me a bit about what happened with Phil Hellmuth back in 2008.
BRETT: Phil and I have been clashing heads since 2004, my rookie year.  I played with him quite a bit that summer, and I would always see the same routine of his, to verbally abuse the youngest player at the table and get a psychological advantage over him and the rest of the table, but not on my watch.  I started laying into him and giving him a taste of his own medicine, to the point where he called the floor on me at least a dozen times.  However, being an amazing smack talker is not against the rules, so they would just ask me to tone it down.  Ironically, the one time I called the floor on him, I was able to get him a 10 min penalty for flashing his cards during a hand.  In my mind, poker is a non-contact sport just like basketball is a non-contact sport, it isn't.  I try to make my opponents feel uncomfortable at the table, one way or another, as opposed to giving them an ideal decision making landscape.
JENNY: Doyle Brunson has taken some young players under his wing to teach them the game and make them the faces of the next generation of poker. How was it playing against the Texas Dolly and have you played against any of the Brunson 10?
BRETT: Doyle Brunson is all legend and class, every poker player in the World can still learn important lessons from Doyle.  He is a class act.  His son Todd is amazing as well, and we have been partners in the annual Brunson Beer Pong classic the last two years, which raises money for charity.  I am actually unfamiliar with the Brunson 10, though I have not seen the names yet, I may have played with some of them before.
JENNY: You've done some charity work in the past. Do you keep yourself active in the charity scene? And please tell our readers what charities you've been involved with as well as what charities you've organized.
BRETT: I created a Celebrity Charity Poker Tournament for the Los Angeles Youth Network (LAYN.org) that lasted several years and raised a lot of money for homeless youth.  The last year Slash showed up and showed a lot of support, the event has since evolved into a Slash and Friends benefit concert for the LAYN!  I am currently involved now with Stand Up For Kids (StandUpForKids.org), which is a national organization that helps homeless youth.
JENNY: Currently, what are you doing now? 
BRETT: I just moved to New York City!  
JENNY: What's next for you in 2011?
BRETT: I am going to keep swinging for the fences and hope I hit a home run or two!
JENNY: Lastly, what online tourneys will you be concentrating on? And will you be partaking in any live tournaments in 2011 or will you just be sticking to the WSOP?
BRETT: Having just moved to New York, I am planning on playing some big events at Foxwoods and Atlantic City, as well as the WSOP.  I will also be playing a good amount online, mostly NL HE and PLO8 MTTs.
- Jenny Woo, Gambling911.com Senior International Correspondent