Lock Poker and Bluff partner again! World Is Invited to 2011 Bluff Pro Challenge
Published on:
Mar/01/2011
The Bluff Pro Challenge sponsored by Lock Poker is set to kick off on April 1st.  Bluff, Lock and Pokernewsboy are giving you the chance to show the world who is the best of the best. Time to take your game to the next level.
The prizes include the player being on the July 2011 cover of Bluff Magazine, as well as featured in a 6 month marketing campaign, and signed to a 2 year LockPRO ELITE Sponsorship and a WSOP Main Event Seat.
"The first Bluff Online Poker Challenge was a revolutionary concept in poker to try to find who the best tournament players in the world were, this time Lock Poker and Bluff are stepping it up a notch to try and determine the best poker player... period"  says Eric Rizen Lynch, "one month, one goal, whoever makes the most money wins. I'm looking forward to finding out who emerges from the challenge and getting to know the next big thing in poker!"
"We are so excited to be doing this type of challenge with Lock again. We really are in a new generation of poker where online Pros are the new rockstars," said Eric Morris, President of Bluff Magazine. "We want to be a part of making the next amazing player really matter. This is a life changing moment for any serious poker player out there and we are excited to be a part of it."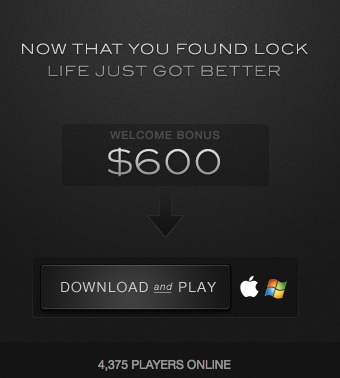 Each player begins the competition with the bankroll of their choice and has the entire month of April to build their bankroll playing in ring games, multi-table tournaments and SNGs exclusively on LockPoker.com. The winner the player who shows the greatest profit. Players are permitted to reload their account at any time during the 30 days. The minimum weekly play required is 250 SNGs/MTTs or 2000 raked hands. 
The BPC begins April 1st and runs through until Midnight on April 30th. Fans can follow all the action through the daily scoreboard and video blogs from the players at www.lockpoker.com/challenge. 
BLUFF
BLUFF Magazine is America's leading poker publication and BluffMagazine.com is the leading website for poker news and player rankings in the world. BLUFF is home to exclusive columnists like WSOP bracelet winners Antonio Esfandiari, Phil Laak and Jennifer Tilly who take readers inside the world of poker's elite each month.
LOCK
Lock is the world's most innovative online gaming brand. Lock launched their first masterpiece, Lock Poker, over two years ago and recently launched their ground breaking Casino. They exploded into poker industry by introducing the Bluff Online
Poker challenge, becoming the first company to develop a Mac download casino and hiring Eric Rizen Lynch as their VP of Product development. Lock continues to bring a fresh perspective to this exciting industry and its mandate is to drive innovation through superior design and initiative. http://www.lockpoker.com & http://www.lockcasino.com
POKER NEWS BOY
PokerNewsBoy.com is the Internet's leading source for poker news, information, and exclusive bonuses and promotional offers. Since its inception, PokerNewsBoy has grown into one of the poker world's most recognizable brands and has developed into one of the poker industry's most trusted online poker portals.
As PokerNewsBoy continues to grow you can expect the same level of dedication and expertise from their owners, management and staff. Visit the PokerNewsBoy homepage at www.pokernewsboy.com