Las Vegas Poker Rooms Reviews by Daniel Negreanu
Published on:
May/20/2011
With online poker suffering a pretty serious blow last month, pro Daniel Negreanu has offered Las Vegas poker room reviews in this week's blog.  Negreanu is the on-again-off-again top cash earner in poker, so this guy knows what he's talking about. 
The Bellagio– This used to be the only game in town when it came to high stakes poker, Negreanu points out.  That is no longer the case.
The room is laid out very well. There is a top section for higher limit games, and then they have the exclusive Bobby's Room which has two tables, a sitting area, and plenty of room and privacy. There is a podium right outside the glass doors where a floorman will usually stand to help ensure that there isn't a lot of traffic going in and out of the room. Nevada laws do not allow private games in casinos, so the doors to Bobby's Room must remain open. However, there are two doors, and one is usually closed which makes random tourists more hesitant about just walking into the room and up to the table.
That really is kind of important. When people are playing for high stakes, or any stakes for that matter, they don't want a stranger standing behind them just "hanging out."
Negreanu notes that, in terms of game selection, Bellagio offers a wide variety of games and if you are a limit hold'em player, and he claims it is pretty much the only game in town.
He also suggested that a number of $200-$400/$300-$600 players claimed to have been mistreated by the staff.  They have essentially taken their action to the Aria. 
(Advertisement:  Join DoylesRoom.com today and check out the new software upgrades including resizeable tables, 7 card stud, bad beat jackpots, timebanks, bounty tournaments, straddle tables, chops pots, short handed tournaments and tons of bonus cash.)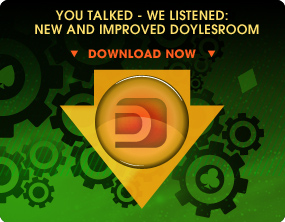 The Aria – The Bellagio's main competitor, this new poker room used to offer free food to players.  Of course, as Negreanu puts it, a few "gluttonous vultures" ruined things for everybody.  Hence, no more free food.
But Negreanu's Las Vegas poker rooms reviews are not bout the free food.  The players, he claims, have told him they are much happier with the floor staff at the Aria than at the Bellagio, although he personally has never had issues with the Bellagio staff (perhaps because they know he is Daniel Negreanu?). 
I don't really like playing in the top section at all. If you want to start a high stakes game, but don't get there early, you won't have access to the Ivey Room. It's one of the key reasons they needed to have two tables in there. The top section is a bit chaotic and cramped. You could be playing $1500-$3000 and have a $12-$24 limit game going right behind you. It's also pretty wide open for tourists to walk through and rail.
All in all, he says he is not blown away by the Aria poker room, but acknowledges that the regulars seem to love it and the Aria is where the action is, day and night. 
The Wynn– For locals, the parking situation is the best in town, according to Negreanu. 
Wynn doesn't have a private room, just a top section with about 5 tables. It's been a while since I've been there so I'm a bit unfamiliar with what they have to offer in terms of games, but if you are looking for lower no limit hold'em games, I hear the games at Wynn are pretty good.
The Mirage -
The one thing the Mirage had/has that no other room had is show traffic! The poker room was smack dab right in the middle of the casino and there was always tons of tourists that would walk by the room. That made the games amazing. Guys would take their women to a show, and when the show let out, they'd HAVE to walk by the poker room. Often they'd have a few drinks, and play for a few hours. There were more tourist drop ins at Mirage than at any time in poker history. It's a shame the big games don't still go there, I'd love to go back to playing there again.
The Venetian – Negreanu commented that this poker room should fit everyone's needs, big and always active.
They don't get high limit games, but if they did, they actually have one of the better private rooms in the city to play in. We did play $4000-$8000 there for a short time, and they have a very exclusive two table poker room pretty much away from everything.
The room is perfectly designed. It's no Commerce Casino, but it's the closest facsimile Vegas has to offer. My assistant Patty and her partner Lisa play there all the time and they love it. The staff has always been very friendly and helpful and they offer a pretty regular schedule of low limit tournaments as well.
It's not a room I expect to play in, as I don't play low/mid stakes anymore, but if you are a grinder looking to build your bankroll, Venetian gets my recommendation.
- Ace King, Gambling911.com