Joe Nguyen Prevails at Club One Final Table
Published on:
Feb/11/2014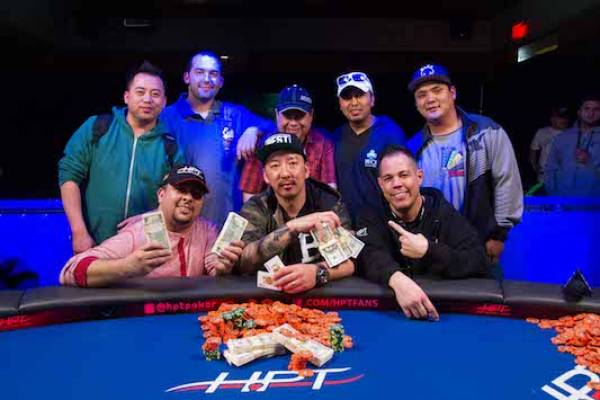 Fresno, California – As Heartland Poker Tour's latest nationally-televised event wrapped up at Club One Casino, telephone repairman Joe Nguyen had just one more opponent to get through on his way to an HPT championship: Club One's Director of Business Development, Su Kim. She played the event on her home turf and advanced to the Final Table where she survived four all-in situations, catching a card on the river three of those times.  Nguyen, who had a four- to-one chip lead on Kim heads up, locked up the championship in just two hands. Su Kim's home field advantage took her to second place for $46,715.  Nguyen of San Jose took home $74,754.
The mostly-local Final Table attracted a lively crowd of supporters who were on their feet until the final hand was dealt.  The Fresno, California card room is a fan favorite on HPT with perks for every player, quality dining, and an accommodating staff.  Top finishers on Monday received money clips from Tiffany & Co among other high-end gifts. "Club One Casino has been a great host," said Dan Evans of Chino, California who collected $22,411 in fourth place. "Food is good and service is great."
Normally welcoming of players in her job at Club One, Su Kim showed Prabhakar Thonduru the door on Monday night.  He started the Final Table with the shortest stack and managed to get an early double.   Thonduru attempted a second double up with king-jack to get him back into the game.   Kim's pocket eights ended his tournament life in ninth place for $8,207.
When the episodes filmed at Club One air this spring, viewers will recognize three players from previous HPT broadcasts.  Stan Jablonski found himself back in front of the cameras for the fourth time, hoping for his first win.  The elusive championship seemed more possible than ever.  Jablonski was the chip leader going into Day 2 and maintained the lead for much of the day.  He came up short with ace-four against Joe Nguyen's ace-nine. Jablonski picked up $14,204 for his sixth-place finish.
Nguyen eliminated another HPT veteran, William Chao, in fifth place.  Chao, of El Sobrante, California, has a fourth-place and a tenth-place finish on his HPT resume.  He moved all-in with ace-ten against Nguyen's ace-king and collected $17,360.  "I'm very fortunate to play three HPT events and make it deep in all three", said Chao, "I was close so many times."
Triet Nguyen came back to Club One for redemption after becoming the runner-up when HPT last visited Fresno.  He moved all-in with ace-eight against the pocket kings of Jed Hoffman.  Triet Nguyen collected $11,837 in seventh place while Hoffman took his chips to third for $31,565.
A busy few weeks continues for HPT with stops in Black Hawk, Colorado, St Louis, Palm Springs, Vicksburg, Mississippi, and Daytona Beach before the end of March.   HPT anticipates another record year with about two dozen tour stops in 2014.  Eighth-place finisher Tanya Kirk summed up the popularity of the tour, "You get a lot of good characters playing the HPT," she said, "I think the cameras and lights are fun." The money doesn't hurt either. Kirk took home $9,943.