How Dumb are Poker Players?
Published on:
May/15/2011
Just how dumb is your average poker player?  Gambling911.com has the answer in its own study that some of you might find surprising, others might not.
The answer is, they're pretty darn brilliant.
Our research shows that a sampling of websites directed at the poker playing community has a readership that consists of more than 50 percent college educated, including individuals who have received higher degrees of learning.
Let's take a look.
The most popular poker site out there is probably TwoPlusTwo.com.  Its readership base is 55 percent college educated with 18 percent having advance degrees.
CardPlayer.com just barely makes the threshold with 51 percent of its audience college educated.  13 percent have attended grad school.
WickedChopsPoker.com we figured would have an audience of dummies (just kidding boys).  Instead, 55 percent of its readers are indeed college educated.
Pokerlistings.com, same thing, 55 percent college educated and the typical reader gambles at Sportsbook.com.
More below our ad that all you brilliant minds know to click on to take advantage of a $600 bonus. 
Lock Poker - Where Smart People Play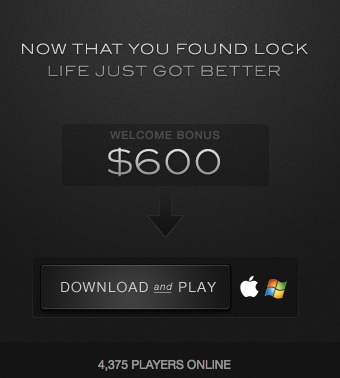 PokerNews.com, again, 55 percent of its readers are college educated.  13 percent have gone on to get their Masters or Doctorate.  Its typical reader likes watching the PGA and Fox Sports (not to be confused with Fox News).
Speaking of Fox News, let's mix it up a little and see how some of these sites compare to mainstream media.  Approximately 71 percent of FoxNews.com's readers are college educated compared to 64 percent for CNN.com and 75 percent for CNBC.com. 
BluffMagazine.com is a mix of brains and blockheads at 50/50.
63 percent of Pokerati.com's readers are highly intelligent.
PokerNewsDaily.com has an audience that is 53 percent college educated.
And how about those who visit the online poker rooms themselves?
PokerStars visitors were 53 percent college educated.
UB.com visitors were 63 percent college educated. 
Bodog.com had visitors that were 59 percent college educated.
There are exceptions to the rule.
Full Tilt Poker visitors were just 49 percent college educated.
AbsolutePoker.com's visitors were only 46 percent college educated.
PartyPoker.com's visitors were only 46 percent college educated.
Some of this could be a reluctance of college educated individuals to sign up with online poker rooms in the current climate we are living in.  Hence, our focus on the news websites catering to these exceptional souls. 
Of course, you are probably all wondering how smart the Gambling911.com readers are by now.   Seems we've saved the best for last in our study. 
Drum roll please…a whopping 70 percent of Gambling911.com's readership base is college educated.  The 30 percent who are dummies are being linked to us from Bluff Magazine.
- Jagajeet Chiba, Gambling911.com