Eric Lynch Will Have to Reduce His 50 60 Hours a Week Online Playing at Lock Poker
Published on:
Feb/09/2011
Continuing my interviews with the Lock Poker Pro Elites is with Eric Lynch who isn't just one of the successful players on the site but is also a great asset by taking on the role as Poker Room Manager. Read my interview with Eric and stay tuned for more interviews with all of the talented Lock Poker Pro Elites.
JENNY: Not only are you one of the Lock Poker Pro Elites but you've also taken on the role as their Poker Room Manger. How has your relationship been with Lock Poker as well as with the other players?
ERIC: My relationship has been great. I've known a lot of the other players for a long time and already had established relationships with many of them. In my former role I didn't interface with them all that often, but in my new role I will be talking with them a lot more and I'm really looking forward to getting their insights and working more closely with them. My relationship with Lock Poker has always been a good one. What they're trying to do (focusing on the player) is something I really support and it's been great working with them.
JENNY: What are you looking to bring to Lock Poker?
ERIC: I'm looking to bring the player's perspective to Lock Poker. Having played professionally for years now I think having a direct ear of the executives will allow a player's perspective to be heard a lot more easily.
JENNY: You're an experienced and successful player as well as a co-author of the book "Winning Poker Tournaments: One Hand at a Time" Volumes I and II. With that said, do you find yourself giving your expertise to other players out there? Also, have you mentored any of the younger players out there?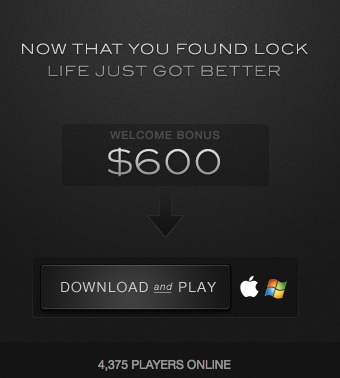 Play in the exclusive Rally for Riches Extreme Rake Chase for your chance at over 1,000 individual prizes, totaling over $350,000 in cold hard cash.

Running for the entire month of February, Lock Poker will track your total number of VIP Points earned during the month. Every time you earn the required number of points for a level, you win a free cash reward, straight into your account.  If you clear all the levels you could win over $45,000 straight into your account! Place in the top position for the rake chase and win a seat to the 2011 EPT in San Remo.  Learn More Here
ERIC: I certainly find that I give a lot of my expertise to other players out there through the books and the boot camps that I do (through WPT Boot Camp). Honestly I often learn as much sharing advice with other players as they learn from me. Since many of them represent the exact type of players I'm often playing against, knowing how they think allows me to play better as well. I've mentored lots of players, but I haven't really worked with any of the more 'well known' younger players out there, although it's quite possible they've read my books!
JENNY: Can you tell our readers a little about the WPT Boot Camp? And how often are you involved?
Eric: WPT Boot Camp does live classes consisting mostly of 2-3 day courses where myself and other highly qualified instructors work with students to improve their game. It is called 'boot camp' for a reason, it's definitely a crash course with A LOT of information in a short period of time, but I think it's a really good way for people to improve their game. A lot of people don't realize the value of ongoing poker education in their game. I learn a lot just by teaching boot camps and working with a lot of the other excellent instructors. I usually teach at a handful per year, and you can find the current schedule at www.wptbootcamp.comto see when I'm teaching.
JENNY: Also, do you have plans on adding a Volume III to the past books? Or even possibly putting out your own book sometime in the near future?
Eric: There is a Volume III to the books, which will be the last volume. I am hopeful that it will be out soon as it is fairly close to completion. I am actually working on my own book right now, but I don't really have an ETA on when it will be done, but it will also be done with Matthew Hilger at Dimat Publishing.
JENNY: How often are you playing online at LockPoker.com?
ERIC: I was logging 50-60 hours a week online. That will probably be reduced with my new responsibilities, but you'll still be able to regularly find me at the No Limit full ring tables or the short handed Pot Limit Omaha tables regularly on weekends and evenings.
JENNY: Currently, how often are you playing in live tourneys?
ERIC: Not very often. Travel can be difficult with family and my kids have gotten old enough now that taking them along with me like I used to just isn't practical anymore. I still try and hit a few live events per year, particularly the ones in the Midwest, along with the World Series of Poker, but my live play is significantly reduced from what it once was.
JENNY: You were formerly an IT consultant before turning pro in the poker world. How often were you playing live and online while juggling a full time job? And what was it that made you pursue the sport full time?
ERIC: I didn't really play live at all while I was working. I played online probably 25-30 hours a week though. I went through a period at work where we laid a lot of people off, and I was fortunate enough to keep my job but started working 60 hours a week. At that point (this is late 2005/early 2006) I was already making more playing poker than I was working. I wanted to take play in the World Series of Poker in 2006 so I lined up a new IT job for the fall of 2006 and took the summer off to play poker. Well after the 24th place finish in the main event and the 3rd place finish in event #3 once I got home I decided not to take the job and I haven't been back to work since!
JENNY: What was your family's opinion of your new full time job when you decided to turn pro? And do you find easier playing poker with a family versus a "9 to 5"?
ERIC: Initially my family wasn't that supportive, but once they realized how much thought and planning I had put into it, as well as how much success I was having in it, they were very supportive. I do find it easier playing poker with a family, as there is a lot of flexibility in my schedule so it's a lot easier to be involved in my kids' lives.
JENNY: What key advice can you give someone who's just getting their start in the sport?
ERIC: Be very disciplined. Keep good records and don't try and move up before you're ready. The biggest mistake I see a lot of players make is trying to play beyond their bankroll too quickly. Everyone wants to instantly play the highest stakes they can. I started playing seriously in 2003 and wasn't really making any good money until mid 2005.
JENNY: Do you have any goals at the moment? Is there something you'd like to accomplish in poker that you have yet to do?
ERIC: I think I have the same goal a lot of players do, I would really like to win a bracelet or a WPT title. Aside from that I really am just looking to make the most of this Poker Room Manager opportunity. I think it combines both my poker skills as well as interfacing a lot with the players, which is something I really enjoy doing. I think it will be a huge success and many other rooms will eventually follow with something similar.
JENNY: Lastly, what's next for you in both online and live tournaments?
ERIC: I don't play a lot of online tournaments anymore. The often 8 plus hour commitment just doesn't fit in with my family schedule that well. I do plan on playing some events at the WSOP this year, and I'm sure I'll hit some other live events. Until then I'll be mostly at the cash tables online at Lock Poker!
JENNY: You mentioned the WSOP. Do you know which events you will be partaking in? And will one of those be the Main Event?
Eric: I haven't taken a hard look at the schedule yet. This year my play will probably be somewhat limited, and I really only see myself flying out for a couple of weekends and the main event, but not staying the entire 6 weeks like I have in past years.
- Jenny Woo, Gambling911.com Senior International Correspondent