In a tweet Tuesday, legendary poker pro Doyle Brunson attempted to explain his often conflicting views of the late poker icon Stu "Stuey" Ungar.

Now accepting most forms of crypto-currencies
Ungar, who passed away in 1998 at just 45-years-old, was widely regarded to have been one of the greatest Texas hold 'em and gin players of all time.  He was also a "real jerk", according to Brunson.  Not always though.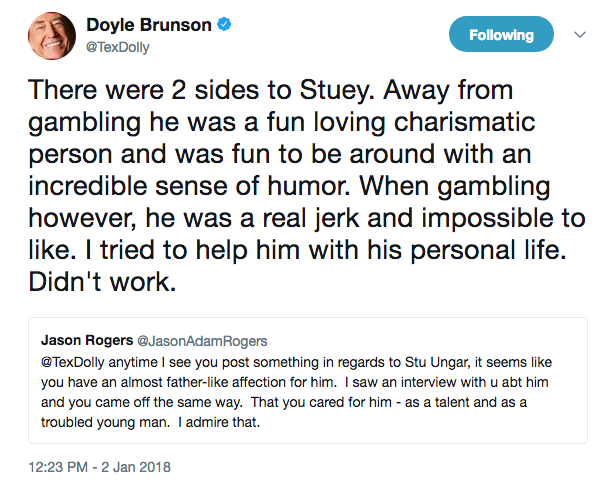 Ungar became addicted to cocaine following the passing of his mother. 
He claimed in his autobiography that he used cocaine "on the advice of fellow poker players because of the drug's ability to keep someone up and energized for a long period of time, something that would come in handy during marathon poker sessions".
Ungar was the chip leader at the 1990 World Series of Poker Main Event when he was discovered unconscious on the floor of his hotel room during a drug overdose just hours before the third day of play.  Even though the dealers kept taking his blinds out every orbit, Ungar still managed to finish in 9th place and walked off with over $20,000.
- Ace King, Gambling911.com