Doyle Brunson Continues Strong at WSOP
Published on:
Jun/02/2009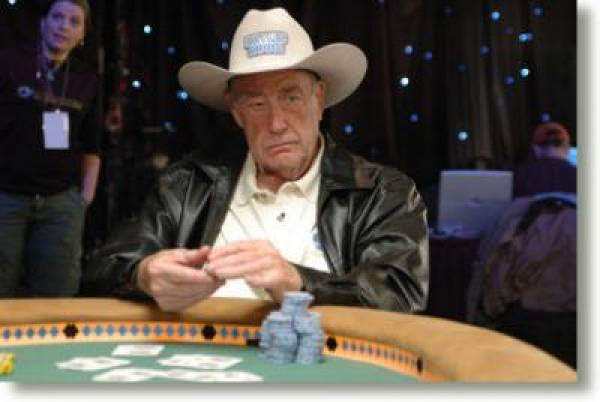 Doyle Brunson is once again proving how much of a living legend he truly is. The poker pro is making his mark in an invitation-only championship tournament at this year's WSOP, heading into the final day with an impressive chip stack.
The 2009 World Series of Poker Champions Invitational, which kicked off on Sunday, May 31st, featured all of the surviving Main Event winners competing for the coveted Binion Cup, a 1970 Corvette Stingray and unequaled bragging rights. The tournament resumes on Monday, June 1st at 3pm with just 10=2 0players still standing, including poker legend Doyle Brunson.
At 75 years old, Brunson continues to prove that Texas Hold'em talent never fades. The iconic pro poker player, who has been playing professionally for well over 50 years, heads into the final day in fourth position with 20,250 in chips.
This year, Doyle Brunson isn't just playing to win; he's teaching players how to win, too. The poker legend is hosting a series of seminars with Mike Caro in Vegas at the Rio. The next Power Poker seminar, titled Mike Caro's Best Hold'em and Tournament Advice, is scheduled for June 13th and is free to online poker players.
Brunson has been keeping fans updated on his success in the tournament through Twitter. Poker players can look for him online under the username TexDolly.
About DoylesRoom.com:
Online since 2004, DoylesRoom ( Doylesroom.com  ) is the only online poker site to proudly bear the legendary Doyle Brunson name. The newest addition to the Cake Poker Network, DoylesRoom offers its players access to unequaled poker promotions, fast action, and countless opportunities to play with Doyle Brunson and other legends of the game. Poker players from North America and around the world can compete for the biggest stakes on the web or sharpen their poker skills while playing Texas Hold'em and other popular games for free. With free poker software, lessons, tournaments, nonstop Sit-and-Go tournaments and ring games available at all limits, DoylesRoom is the preeminent poker destination for real live game play-online or anywhere.