G'day punters, journos, high rollers, politicians, insiders, outsiders... one and all. Today we cover a bit of the gossip going around Aussie gambling, casino and media circles. There's a bit of something for everyone. Media Man and Gambling911 with another great news roundup for you from the land down under...
Crown Casino: Melbourne Gets Casino Babes Sort Of: Burlesque Royale - 28th January
Starring for the first time in Australia, UK burlesque sensation Immodesty Blaize, Burlesque Royale is a never before seen spectacular of old fashioned showgirl glamour. Featuring for the first time in Australia, International stars Kalani Kokonuts (US), Michelle L'amour (US), and Perle Noire (US). Also performing are Australian artists Danica Lee, Holly J'aDoll, Kelly Ann Doll, and Lauren La Rouge with a special performance by Mada Vs Vegas - The Duelling Magicians. Hosted by the enigmatic Supergirly, Burlesque Royale is set to take its audience on a wild ride with tongues set firmly in cheek. VIP tickets will include a complimentary drink, gift bag and access to the after party.
Date: Friday 28 January, 2011
2 shows. 8pm and 11.30pm
Crown Casino, Melbourne: 2011 Aussie Millions Poker Championship Starts Thursday...
Australia's biggest, best and richest poker tournament is back with a blast. Aussie Millions commences this Thursday at James Packers' Crown Casino in beautiful Melbourne, home to the original 'Underbelly' TV series which featured gambling themes. We understand that the $10,600 AUD no-limit hold'em main event will snatch the attention of the poker players and commentators when it fires off on January 23rd. An deep field of 746 punters participated in the 2010 main event, with our own Tyron Krost being crowned champion, picking up $2 million, and soon after being signed u by PartyGaming's PartyPoker. Many other players (and brands) and keen to knock him off as you might expect. The field is expected to be one of the greatest ever, if not the best. High-stakes events include the $100,000 Challenge that commences on January 22, as well as the Aussie Millions high stakes cash game featuring a $200,000 minimum buy-in on Jan 24th. Last year the $100,000 Challenge attracted 24 players for a prize pool of $2.4 million, and it was Dan Shak who bested Phil Ivey heads up to earn a cool $1.2 million. Other substantial buy-in events this year include the $10,500 Australia no-limit hold'em heads-up championship and a $10,500 eight-game mixed event. Stay glued to this dial for more coverage, and don't be surprised if Fox Sports and or / ESPN give it a bit of TV coverage. Poker is big business in Australia and around the world, and media companies are keen to cash in too. Good luck to all players, and on James Packer for your commitment to the "sport".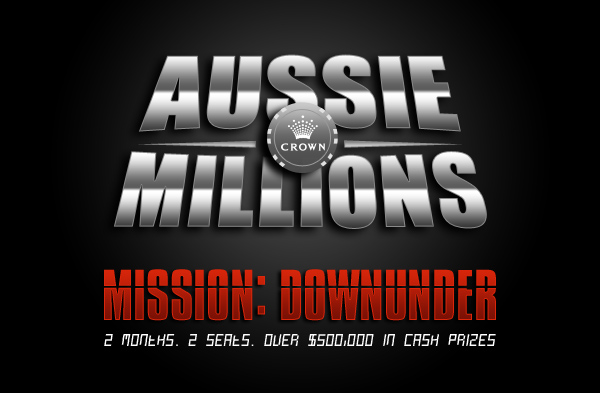 Crown Casino: Elvis Lives With Elvis To The Max - 11th March 2011...
Elvis to the Max has successfully toured Australia for over a decade, always to sell out crowds. Max goes beyond impersonation. His re-creation of The King's looks, moves, vocal style, impressions and humour is so accurate, its awe inspiring.
Date: Friday 11 March, 2011
Doors open: 7:15pm
Real Life Underbelly: John Hopoate To Face More Charges Of Brawl At The Cross; Sin City Sydney...
John Hopoate is a name well known the the Underbelly, sports and media world down under in Australia. Hopotate used to be a great NRL player and he did pretty well in the boxing ring also. For those who don't know Hop has been playing bouncer at the doors of Kings Cross nightclubs. Yesterday he had a date at the Downing Central Local Court in Sydney. He's been charged over an altercation between bouncers and 3 men outside the Trademark Hotel on December 18. Media turned up to catch the action in court. At one stage he asked a radio reporter why he had taken notes during the hearing. Hopoate has been charged with assaulting Wilmer Duque Castillo, 27, during the scuffle. Duque Castillo's brother, Wilson, 33, passed away last week from the injuries he endured that fateful night after he, his bro and another man were refused entry to the popular nightclub. Coppers say some members of the group became aggressive when they were turned away. It is believed a knife was pulled on the bouncers that night. For the record there is no suggestion that Hopoate was involved in the death of Duque Castillo. Hopoate, already facing charges of "common assault and affray", was yesterday charged with another..."assault occasioning actual bodily harm in company". Hopoate's legal eagle, Stephen Alexander, told the court the former footy player would plead not guilty to the common assault charge but did not enter pleas on the other two. Police haven't charged anyone over the death of Duque Castillo as we go to press, and ar asking for witnesses. Hop's bail was continued, and the matter is due in court on March 8. We hope that justice is served, whatever that judgement may be. Unfortunately Kings Cross got a bit more of its old reputation back, but its not too late to try to make people feel a big safer again when they wish to enjoy a night out at The Cross.
Cricket And Casinos Don't Always Mix; Ask Graeme Swann...
England's triumphant Test players have been telling their Twitter followers about how they celebrated the team's 3-1 win - and for Swann the festivities involved alcohol and gambling. The champion spinner tweeted 'I seem to remember losing all my money magnificently quickly playing 'cards' in the casino last night. Shades of Prince George in Blackadder.'
Cairns, Queensland: Pullman Reef Hotel Casino Responds To Aussie Casino Wars With Promo For Punters, Tourists...
Cairns has let it be known they are are still competing in the Australian Casino Wars, even if they are getting a "wet wet wet" wet season. Of course, south of them in Brisbane is flooding, but that's another story. It's the wettest season Queensland has seen in years. Fortunately, Cairns in the state's north is still enjoying some fine weather. "I think we can say that living with the wet is now part of the Queensland and TNQ lifestyle, so we might as well embrace it the best way we can" says Pullman Cairns General Manager Adrian Williams. The Pullman Reef Hotel Casino in Cairns is offering a big Wet, Wet, Wet holiday package for those who want a more friendly and fun water-themed adventure this summer. Pullman is helping its guests make the most of the region's rivers being in full flow, offering an extreme white water rafting experience in the tropical rainforest surrounds of Barron River. After all the roaring rapids excitement, Pullman invites its guests to stay wet. Relax (get sexy and in the mood?) via the in-room spa bath at the hotel and bottle of sparkling wine to have a great time. Use your imagination punters! The package comes from A$359** which includes: Overnight accommodation in a Superior Room with full breakfast daily at Pullman Reef Hotel Casino, A half day Barron River water rafting experience and a bottle of Australian sparkling wine. The offer is subject to availability and valid for sale and travel until 31 March 2011. Maybe some Aussie Millions folks might like to fly up to Queensland to check it out, as long as the still have money left. Let us know if your visit Cairns. We'd love to hear if you got lucky or double lucky!
Casino Canberra: Throws Hat Into Aussie Casino Wars; Plays Entertainment And Gambling Cards...
Thursday Night Poker - Every Thursday night, commencing at 7.45pm, you can try your poker skills out playing Hold-em Poker in Casino Canberra's poker pit. Buy-in is just $85 bucks. Your Private Gaming Table - If you want to try your hand at Blackjack, or become an ace poker player, you can do it all in your own private gaming pit at the Casino. At Casino Canberra's Fun Nights, you'll play on real tables, from as little as $1 a bet, enjoy a drink or two, plus gourmet nibbles and take a spin around your own private nightclub. It's exclusive, it's private, it's like nothing else that's out there. Call 62577074 and ask for the Functions Department who will organize an event for you. Coming up in 2011 - Chinese New Year 'Year of the Rabbit'...Don't miss out on your chance to win with 'The Lucky Rabbit' promotion.  Enjoy our table games to gain entries into this awesome promotion.  Commencing on Friday 25 January 2011 you can start to get your entry tickets into eight draws for a chance to win up to $2,700 instantly.  Eight draws, eight chances for you to walk away with over two and a half GRAND!  Lifeline 13 11 14.  TP 10/05472 Keep your eyes peeled for the Golden Rabbit coin give away that we hope to launch in The Grill Restaurant on Friday 25 January 2011.  Subject to government approval.
South Australia: Reminders About Problem Gambling Get Strong Media Coverage...
Councils across regional South Australia are taking a stand as part of an independent review of the social effects of gambling after figures from the past quarter have shown punters have returned to the pokies with hellfire and brimstone. Data obtained by MM shows punters in Mount Gambier and Grant District councils are down a massive $17.1m to the pokies in the 2009/10 financial year after a short gambling slump connected to introduction of smoking bans in hotels. Mount Gambier and Grant district council residents spent more on pokie machines than most regional areas in South Australia, with Whyalla not far behind at $15.7m in 2009/10. Statewide figures for the past quarter showed a 12% increase, indicating the loss will be even greater this financial year — by around $70m across South Australia if current trends continue. In response to the situation, councils included in the Provincial Cities Association (PCA), which includes Mount Gambier City Council, will put their heads together to tackle the rising trend in regional areas. The association has resolved to be involved in the Independent Gambling Authority's "Social Effect Inquiry" relating to the processes of applying for and the granting of gaming machine licences. PCA executive officer Ian McSporran said $70m of the $200m poker machine revenue for the past quarter came from provincial cities of South Australia. "Gambling problems are a major concern in regional areas," McSporran said. "It is a fact that the number of gaming machines per head in regional areas is incredibly disproportionate, even more so than Adelaide — we are seeking to be a major part of the body that will assess the social effects that gaming machines have." But Australian Hotels Association Limestone Coast representative Guy Matthews said the 12pc increase only brought figures back to where they were before the smoking ban, with added natural inflation. "It's nothing out of the ordinary — people have got used to the smoking ban now and a few more of the smokers have come back and are playing the machines again," Matthews said. Lifeline Mount Gambier's Eve Barret has warned poker machine players to seek help if facing problems with gambling. She said while the ban was effective in deterring smokers from using poker machines, there was always a time after the initial reaction for adjustment and levelling out. "Maybe some of those people (who returned to the poker machines) gave up smoking," she said. "If people have any concerns about their gambling they should come and talk to someone." The general belief about gambling is that if it stops being fun and becomes a problem, its time to stop. We wish good fortune to anyone who wants to try their luck.
*Greg Tingle is a special contributor for Gambling911
*Media Man http://www.mediamanint.com is primarily a media, publicity and internet portal development company. Gaming is just one of a dozen sectors covered
*the writer owns shares in Crown Limited, Ten Network Holdings and Virgin.