Bluff Poker Challengers Talk About Their Experience With Woo: Loving Lock Poker
Published on:
Apr/12/2011
The Bluff Poker Challenge kicked off April 1 and has been an instant success, attracting just over 650 players to the LockPoker.com website.   Each player began the competition with the bankroll of their choice and has the entire month of April to build their bankroll playing in ring games, multi-table tournaments and SNGs.  The prizes include, among other things, a seat the World Series of Poker Main Event and a chance to win several million dollars.
Gambling911.com's own Jenny Woo sat down with a few of the challengers to discuss their experience thus far. 
Poker Player Cyrus Partow
JENNY: How has your experience been with Lock Poker?
CYRUS: My experience at Lock Poker has been great. I have both played with and gotten to know some of the site's pros and most importantly have had great customer service. I'm very picky about customer service when it comes to online poker sites and Lock has been very diligent. 
JENNY: What was it about the Bluff Challenge that made you want to enter?
CYRUS: The Bluff Pro Challenge was free to enter and is basically a freeroll at winning a pro contract with Lock, a 10k wsop seat, and additional stuff such as being featured in Bluff Magazine. Anyone who has a hot month can win this thing and it motivates me to play.
JENNY: How are you doing so far in the challenge?
CYRUS: Right now I'm back and forth between first and second place. It's still way too early in the challenge to mean anything as no one has an overwhelming lead in it. In other words, it's   up for grabs!
(at press time, Cyrus was once again leading the pack.  His handle is CooKieMoNSTer0)
JENNY: What would you say is your biggest goal at the moment?
Cyrus: At the moment, my biggest goal is to improve at a faster rate than my peers. If I can keep improving and stay ahead of the curve then I will continue my success. Other goals include expanding on the business side of poker and getting a deal with a site (most preferably where I play most which is Lock). I plan on playing several wsop events this summer and would love to fulfill the dream of a bracelet. Wish me luck!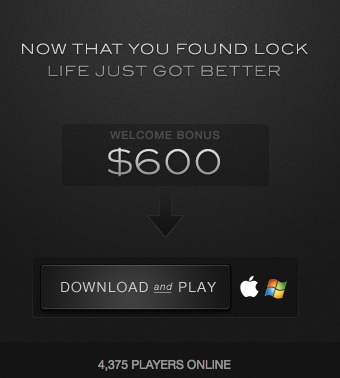 Poker Player Tommy Felice (AKA TBONE4life87)
JENNY: Where did you come up with your handle?
TOMMY: Ha! I know Tbone you might think I love steak but I used to be a tennis player and my tennis coach would always call me Tbone as a nickname.
JENNY: What was it about the Buff Challenge that made you want to enter? 
TOMMY: I think being on the cover of Bluff Magazine would be the ultimate "I made it" moment... at least for me it is.
JENNY: How has your experience been with Lock Poker? 
TOMMY: Absolutely amazing I've been slowly just playing here instead of other sites and its really paying off, also emoticons are the coolest thing to hit online poker chat boxes!
JENNY: Have their been any regrets so far in your poker career?
TOMMY: Great question. I don't think I have any regrets as far as my lifestyle or game selection... maybe not traveling more and playing live tournaments. However, I do have a hand that I highly regret that I think about a ton. Final table of Sunday Million were 5 handed I believe and I think I was chip leader by a little at the time. The kid to my right had a little less than me and started to play more lag...anyways he opens button and I 3 bet from Sb with AJ suited and he just snap ships on me. I tank forever and fold and end up taking 4th and after watching the replay found out he had K8 suited. Any other tourney I'm snapping but that moment was just to hard for me to call.
Check out more of Lock Poker Hereand use bonus code GAMBLING911
- Jenny Woo, Gambling911.com Senior International Correspondent
As always, you can Follow us on Twitter for all the latest breaking gambling news. (around the clock gambling news)