AllinLatino.com Launches for Latino Poker Community
Published on:
Sep/29/2008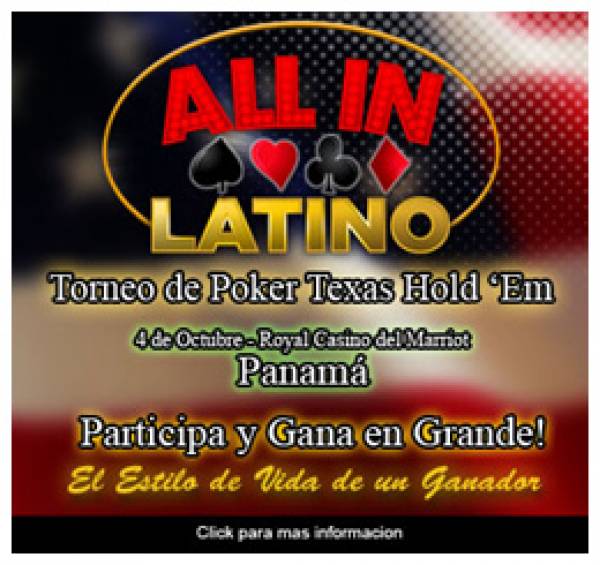 Like Gambling911.com, only with Latin spice and a little less Investigador Nacional, introducing AllinLatino.com.
Spanning from Mexico to Brazil, AllinLatino.com is your new online source for Poker, Casino, and Sportsbook news. Emphasizing the motto 'Lifestyle of a Winner', AllinLatino.com promotes the most exciting and prestigious poker tournament events, both online and offline. AllinLatino.com Poker Events are not dull, stuffy, poker-faced events! Based out of Panama, our talented staff and entertainment crew offers a breath of fresh air into the world of poker. In fact, AllinLatino.com, in conjunction with Playacommunity.com, invite Expats to come experience the 'Lifestyle of a Winner' at our upcoming Poker Party on Saturday October 4th, starting at 7:30 pm. This tantalizing event will be hosted at the Royal Casino, Marriott in Panama City.
Every attendee will receive the red carpet treatment as they hobnob with celebrities and the gorgeous AllinLatino.com Girls. Chat with local celebrities, Fiona and Mel from Ultra Stereos "The Morning Show", or Panama-guide.com's very own poker guru, Don Winner.
Party guests may also indulge in a sampling of tasty cuisine from Benihanas and Madame Changs. Or, fulfill your spicy side with the Hooters girls, and a side of fiery hot wings. In the spirit of our high energy event, guests may also get their own energy boost from the sexy RedBull girls.
Free Food & Drink, Pretty Girls, and, Wait for it...... Free Giveaways!
Party participants are invited to play in the AllinLatino.com 'Lifestyle of a Winner' Poker Tournament. Poker players can enjoy the $25 dollar tourney with two (2) $25 dollar re-buys. In addition to the Poker fun, guests may enjoy the casino games, and receive one of the many souvenirs given throughout the night.
Guests are asked to register in the poker room, in order to participate in the Poker Tournament, and to be eligible to receive tons of great gifts from AllinLatino.com and our online sponsors AND in the following week, visit www.allinlatino.com to see if you are one of our many registered guests to receive gifts valued up to $100. If you're ready to party with AllinLatino.com, and have fun with fellow Expats, come on down to the Royal Casino at the Marriott and see what our 'Lifestyle of a Winner' is really like.
For more information, please visit www.AllinLatino.com