Sunday February 10 saw a flurry of activity at Americas Cardroom as the growing US facing poker site held two $50k Guaranteed tournaments simultaneously bringing more player traffic and higher tournament prize pools than usual.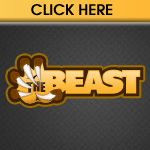 The addition of the monthly '$50k Beast' tournament has boosted the website's popularity as many players received their $50+$5 entry fee by participating in the monthly progressive points race. In total, the website saw 352 players awarded their entry and 1,049 cash buys to make up the prize pool of $70,050 which far exceeded the $50k guarantee.
In total, 216 players made the money with player 'ac101789' taking home the top prize of $13,169 edging out player 'TheRealTreenom' who captured second place and $8,160.
The Beast promotion is growing steadily in both popularity and participation. ACR introduced 'The Beast' as the world's first progressive points race. Players earn points by playing on ACR's jackpot tables. They are then ranked on a leaderboard based upon points earned throughout the month. At the end of the month, players are distributed cash prizes based upon how many points are accumulated. As the cash prizes increase by the amount of play increases, the progressive nature of the promotion gives way for ultimately no cap on the reward potential.
The race continues to be dominated by player 'MamaCoolJ' who has led the monthly race start to finish over the past 5 months. 'MamaCoolJ' has jerry rigged his Xbox controller to work with the poker client, enabling him to play up to 36 tables at once making him a point earning machine. February is no different in that after 10 days of play, MamaCoolJ leads his closest competitor 'GiftofGab' by over 11,000 points at the time this article was written. To date the Beast promotion has awarded $841,555 to its players.
The weekly $200+15 $50k Sunday regular also saw a high level of participation with a total number of 326 total buy-ins including re-entries to bring the prize pool up to $65,200. A total of 63 players made the money with the bottom spot earning $293. Player 'thenutgut' took home this week's top prize for a big $13,366 payday.
As a result of better tournament offerings and promotions, ACR has seen a pickup in traffic over the past few months. Known as the most dependable network for US facing players with consistent turnaround time on payouts, ACR offers a safe and secure environment for US and players from around the world to play.
For more information about ACR's promotions or a complete tournament schedule please visit Americas Cardroom Here.